What is Kahlua and How to Make it?
Kahlua coffee is a type of coffee that uses Kahlua liquor to give it its distinct flavor. Kahlua can be used in either hot or cold drinks, and this coffee-flavored liqueur is best served after dinner or at nighttime.
Kahlua coffee has a higher alcohol content than regular coffees, so it needs to be enjoyed responsibly! This blog post will teach you what Kahlua coffee is, how to make Kahlua coffee, and the best time for enjoying a cup of this fine coffee liqueur.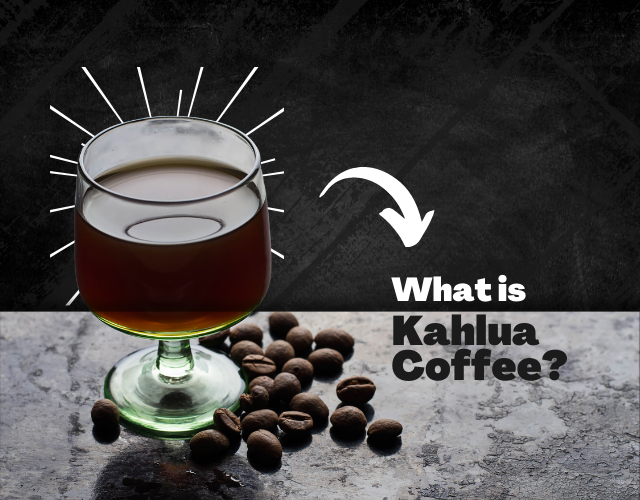 What is Kahlua Coffee?
Kahlua coffee is simply an addition of Kahlua liqueur to your favorite cup of hot coffee. This drink can be topped up with a generous amount of whipped cream and sprinkled with chocolate shavings. By doing this, you can create a Kahlua coffee that is sweet and creamy, with the Kahlua liqueur giving you a nice kick at the end.
Is It Okay to Add Kahlua in Hot Coffee?
Absolutely! Kahlua is a coffee-based liqueur and adding it to your morning cup of joe (or even an after-dinner drink) will only enhance the flavor.
How much Kahlua should I Add?
This depends on how much Kahlua you like in your coffee, as well as how strong you want the Kahlua flavor to be. Kahlua recommends that you add no more than a teaspoon per cup of hot coffee, but many Kahlua fans may want it even stronger so use your judgment as to how much Kahlua will taste best in your morning brew!
How to Make Kahlua Coffee
It takes only a few minutes to make Kahlua coffee. This type of coffee has cream and other flavors added to it, making for an interesting taste combination. Kahlua coffee can be served hot or cold, and below is how you can make this coffee-flavored liqueur.
Recipe for Kahlua Coffee:
Freshly brewed strong coffee (the fresher the better)
Kahlua coffee liqueur
Whipped cream (optional)
Cream (optional)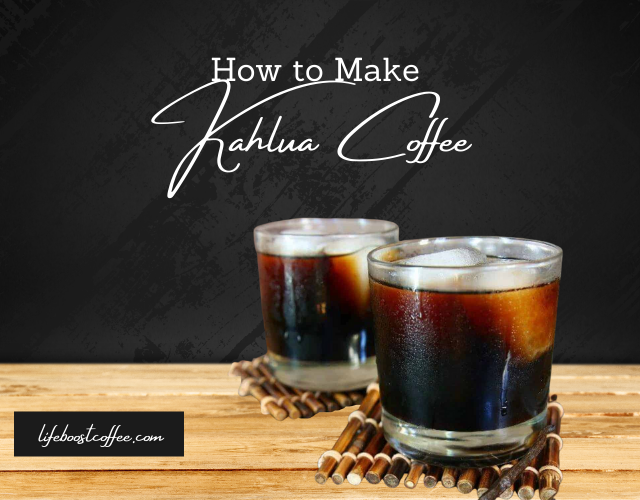 Directions: 
Brew fresh, strong coffee
Add Kahlua Coffee Liqueur to the cup of hot coffee (depending on how Kahlua you like it)
Top with whipped cream and/or sweetened cream if desired.
Top Kahlua-Coffee Recipes :- Kahlua coffee cocktails are full of flavor and can be made in a variety of ways, many include Kahlua along with other ingredients that will surely make your taste buds sing! Some popular Kahlua cocktail recipes include:
White Russian
Mudslide
Black Russian, etc.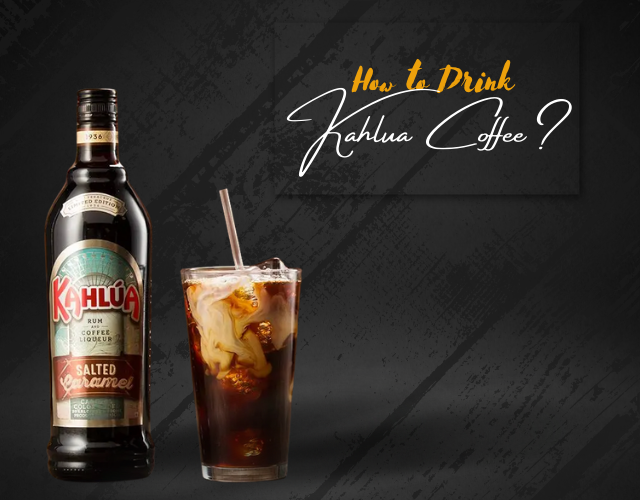 How to Drink Kahlua Coffee
Kahlua coffee is a great drink to have during the winter months or when you are feeling sick. Kahlua coffee can be served hot or cold, but it tastes best hot with whipped cream on top of it!
Kahlua coffee also goes well in many desserts too. If you're looking for something new and interesting to try this holiday season Kahlua coffee is a great drink to start off with.
All that said, Kahlua coffee can be served:
Plain - This is drinking Kahlua coffee black, with no cream whatsoever and it's still tasty!


With Whipped Cream - Kahlua coffee tastes best when it's topped with whipped cream.


Cream - Kahlua coffee can be served with cream instead of whipped cream, which is just as tasty.


Coffee Cream - Kahlua coffee tastes especially good when it's topped with half and a half or heavy whipping cream.


With Ice Cream - Kahlua Coffee can also taste amazing if you add some ice cream to it! Try vanilla bean ice cream or Kahlua ice cream if you're feeling adventurous.


Cupcake - Kahlua coffee tastes great in cupcakes and even better when it's topped with Kahlua Coffee icing!


With Alcohol - Kahlua coffee can also be served with another type of alcohol like Baileys, which makes a tasty drink (although not as good as just Kahlua coffee).
More Details on Kahlua Coffee Liqueur
Kahlua coffee can be enjoyed alone or mixed with cream. Kahlua is typically served hot or cold, but warmed-up Kahlua coffee tastes just as good! Kahlua pairs well with desserts like brownies and ice cream.
The Kahlua flavor actually becomes even more pronounced when the liqueur is heated up because it brings out Kahlua's sweetness. Kahlua coffee is easy to make and only requires three simple ingredients:
Kahlua, hot brewed coffee, and cream (whipped or not).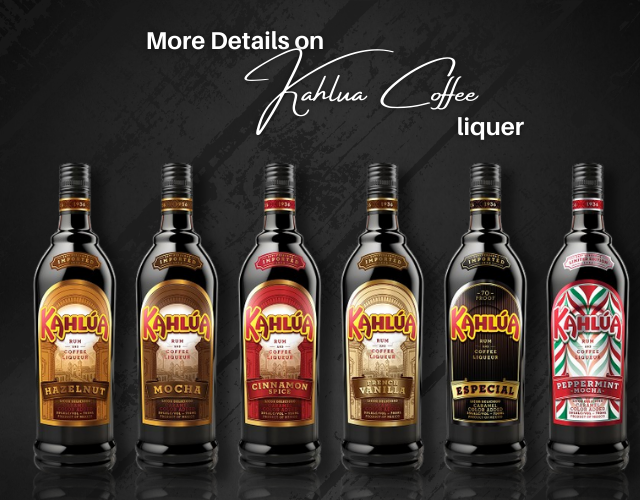 What is Kahlua? Kahlua is a coffee liqueur made from rum, vodka, sugar, and Arabica coffee beans. Kahlua was actually first developed in Mexico and has since become one of the most popular liquors worldwide.


Does Kahlua Go Bad? If properly stored, Kahlua can last for years. Kahlua should be stored in a cool, dry place with little light exposure and away from products that contain strong odors. Also, Kahlua should be tightly closed after each use because it can degrade faster when exposed to heat, humidity, and light.


What is Kahlua Coffee? Kahlua coffee is simply Kahlua mixed with brewed hot coffee or espresso!


Does Kahlua Contain Caffeine? Kahlua does contain a small amount of caffeine, which is estimated to be around 25%. This is nearly as much as what you can find in coffee.


How Much is Kahlua? Kahlua is sold in a variety of sizes including - Kahlua 750 ml bottle - Kahlua single-serve bottles (ex. Kahlua K-cups, Kahlua M-packs) - Kahlua liters and half-gallons - Kahlua mini bottles (ex. Kahlua minis, Kahlua pocket flask).

The price of Kahlua will range depending on the quantity of this coffee liqueur you want. For instance, the large 750 ml bottle of Kahlua can cost you up to $23.


What Other Cocktails Can I Make with Kahlua? Kahlua is the main ingredient in many cocktails including Kahlua White Russian, Kahlua Mocha Coffee Liqueur, Kahlua Mudslide, B-52, Mind Eraser, and Kahlua Hot Chocolate, among other Kahlua drinks.

That's not all, Lifeboost coffee has a more incredible selection of coffee cocktails that go great with Kahlua coffee liqueur. Take a look and see how you can add to your Kahlua drinking experience for a yummy treat!


What Kind of Cream Can I use to Make Kahlua? You can either get whipped cream or regular heavy cream because both are equally delicious depending on your preference! Whipped cream Kahlua coffee is very rich and creamy whereas Kahlua coffee with regular cream is a bit lighter.


Can I Make Kahlua Coffee in the Microwave? While you can make Kahlua hot chocolate in the microwave, we don't recommend microwaving Kahlua because it will overcook slightly and lose some of its flavors.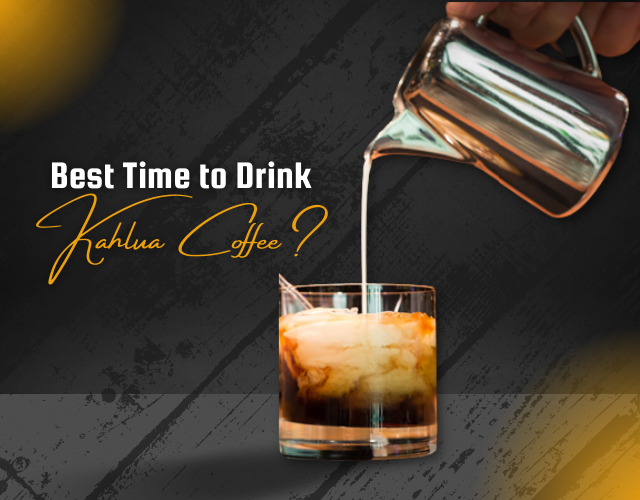 When is the Best Time to Drink Kahlua Coffee?
Kahlua coffee can be enjoyed any time of day. Kahlua is typically served as a dessert drink, but Kahlua tastes just as good with breakfast foods like waffles and pancakes!
With that in mind, here is when you can serve Kahlua coffee for a refreshing drink:
Brunch
Afternoon cocktail
A drink for the cocktail hour
Nighttime drink
Lastly, Kahlua coffee can also be served as a happy hour drink as well.
Closing Remarks
Kahlua coffee is the perfect choice for those who are looking to enjoy a drink with their morning breakfast, afternoon, or as an after-dinner treat.
The next time you're in need of some caffeine and want something sweet but not too sugary, try this at-home recipe that will satisfy your cravings (and if you like it iced cold then don't hesitate to adjust the proportions accordingly).
Remember that as with any alcohol consumption, moderation is key and should be used responsibly. Give this tasty beverage ago today!
MEDICAL DISCLAIMER
This content is for informational and educational purposes only. It is not intended to provide medical advice or to take the place of such advice or treatment from a personal physician. All readers/viewers of this content are advised to consult their doctors or qualified health professionals regarding specific health questions. Neither Dr. Charles Livingston nor the publisher of this content takes responsibility for possible health consequences of any person or persons reading or following the information in this educational content.
All viewers of this content, especially those taking prescription or over-the-counter medications, should consult their physicians before beginning any nutrition, supplement or lifestyle program.