Not a fan of dairy products? Are you getting tired of using almond milk as a substitute? Well, you've come to the right place. This article will help you decide on which non-dairy product to get. We will also be talking about some of our recommendations as well as a bit of information on what makes non-dairy creamers better than dairy-based products.
Why should you choose non-dairy creamers?
There are two reasons why people are choosing non-dairy creamers. The first reason involves their health. A lot of people are lactose intolerant. This means they can not process dairy, and it will cause them discomfort if they ingest this product. Traditional dairy creamers have more calories, especially with different flavors like French vanilla, sea salt caramel, etc.
The other reason involves ethical or environmental concerns. People who are following a strict vegan diet can not consume food or drinks that contain anything that comes from an animal. But why are people choosing to be vegan?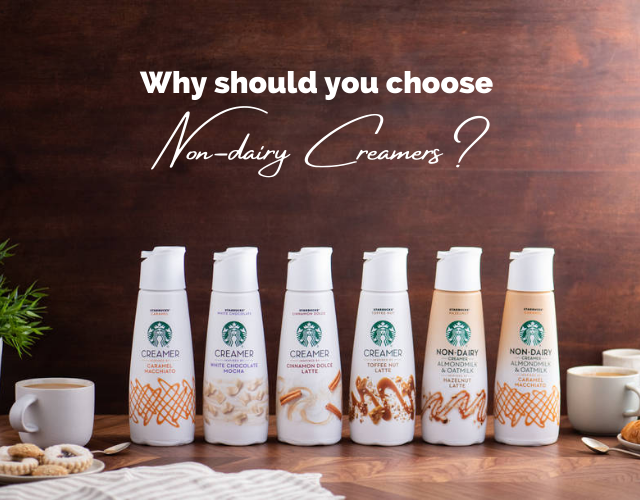 If you are a member of social media, you've probably scrolled past or even watched one of the many videos of factories abusing cows, sheep, chickens, and other farm animals. These are not pretty to watch, and you can't help but feel sorry for the poor creature. A lot of people do more than feel sorry for the animal. They change their diet and even arrange protests in front of these factories.
This is why there are a lot of dairy alternatives available in the market. But not all of these non-dairy products are made the same. Each contains different ingredients, and companies often use different sweeteners or additives depending on what market they are advertising on.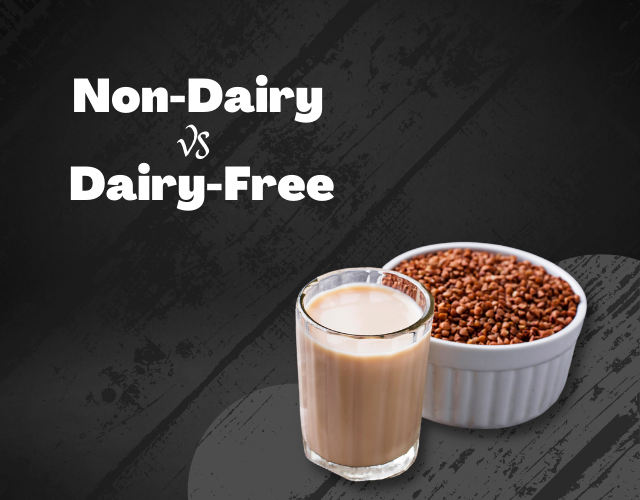 Non-Dairy vs. Dairy-Free
Before we talk about our recommendations, let's talk about the difference between non-dairy and dairy-free. If you take a look at the available dairy alternatives in the supermarket, you will notice that some of these are labeled as "non-dairy" and "dairy-free." But aren't these just the same? Not quite.
Non-dairy creamers still have a bit of milk in them. The rule here is the product should have less than 0.5% milk for them to qualify as non-dairy creamers. Not all non-dairy creamers have traces of milk in them, but there's a high chance that the brand you choose does. Now, if you're choosing dairy alternatives because you're lactose intolerant, then a bit of dairy won't hurt you. But if you're avoiding dairy because of ethical issues, then steer clear of non-dairy creamers.
Dairy-free creamers, on the other hand, don't have any dairy or milk in them. This is the ideal creamer for people who are allergic to dairy or vegans.
Califia Farms Almond Milk Creamer
Califia Farms is one of our favorite brands when it comes to dairy-free creamers. As the name suggests, this creamer is nut-based. But it also contains coconut cream. It comes in two versions: refrigerator version and shelf-stable.
This particular coffee creamer is sugar-free, non-GMO, vegan, kosher, gluten-free, soy-free, dairy-free, and carrageenan-free. Its low-calorie count of ten per serving is enough to get people hooked on this creamy dairy alternative.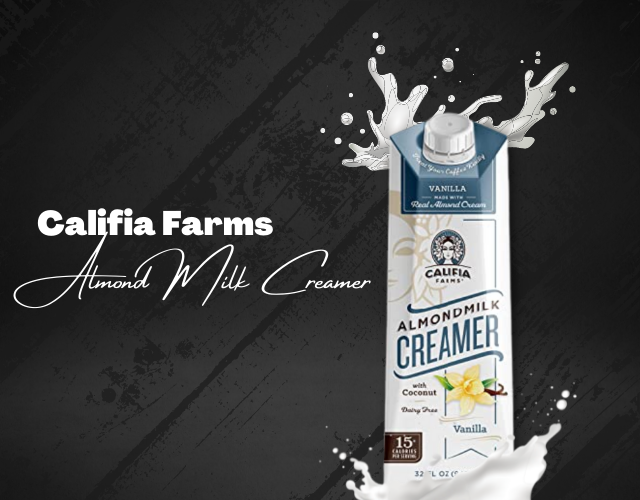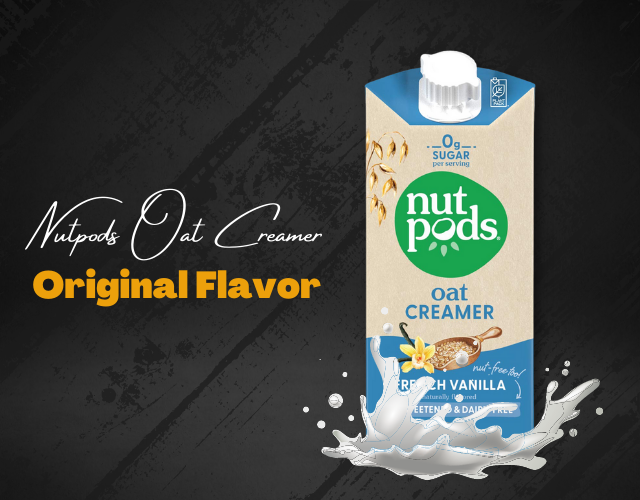 Nutpods Oat Creamer Original Flavor
This is the most sought out alternative dairy creamers in the market. The company uses oat milk, thickeners, and vegetable oil to make its product. It's a fairly simple dairy-free creamer, but it gets the job done. Since this creamer is made of oat milk, it's naturally sweet. You might not even need to add sugar or other sweeteners to your coffee.
Nutpods Oat Creamer is ideal for coffee lovers with various dietary needs. It does not contain soy, dairy, carrageenan, or gluten. This creamer is keto-friendly, diabetic-friendly, non-GMO, vegan, and kosher as well.
Ripple Barista-Style Milk
Similar to the Califia farms creamer, there is no shortage of the Ripple Barista-Style Milk on the market. If you enjoy foamable and thick cream, then this product is perfect for you. When frothed properly, it creates a very velvety and smooth foam that looks not only nice on your coffee but also tastes good.
This creamer contains Pea protein, which makes it plant-based milk. It is also nut-free, gluten-free, lactose-free, soy-free, non-GMO, and barely has any sugar in it. Furthermore, Ripple is a Certified B Corp company as well as an official Public Benefit Corporation.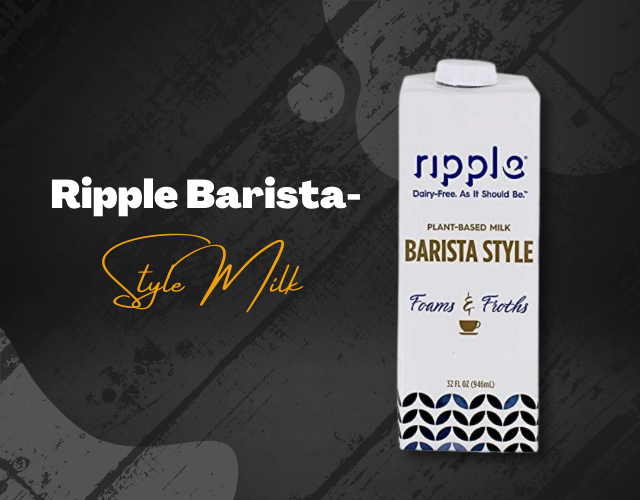 This means the company is committed to providing the best products for all its consumers. This specific brand also comes in a half-and-half version. Although you can't find this product online, you have a chance of spotting it at your local grocery store. But these things sell out fast, so consider buying them as soon as you get your hands on them.
Silk Soy Creamer Vanilla Flavor
If you do your own grocery shopping, chances are you have spotted this brand in any supermarket you go to. This should not come as a surprise because Silk is a very popular and big name when it comes to dairy-free products.
Silk's soy vanilla flavored coffee creamer contains cane sugar, maltodextrin, soy milk, soy lecithin, tapioca starch, natural flavor, dipotassium phosphate, and locust bean gum. It is also lactose-free, carrageenan-free, vega, non-GMO, and gluten-free.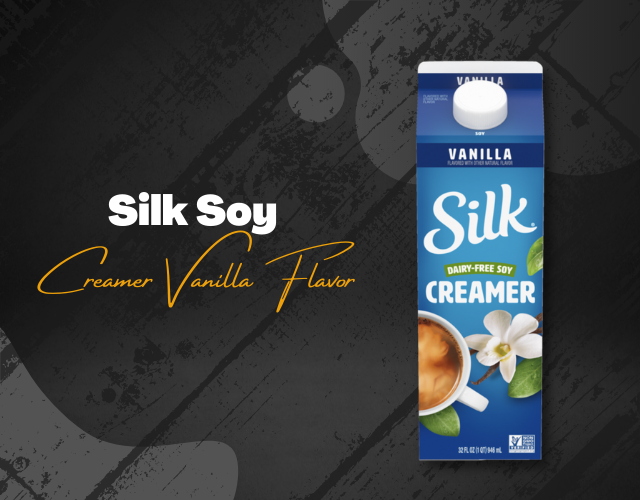 The subtle hints of vanilla flavor present in this creamer will surely add a bit of sweetness to your cup of coffee. If you enjoy your coffee sweet, this is the product for you. But do keep in mind that this creamer has additives as well as a small percentage of sugar or any other sweetener.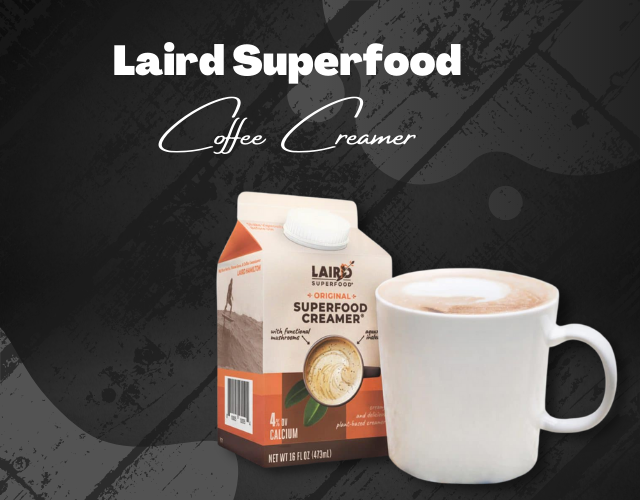 Laird Superfood Coffee Creamer
If powdered creamer is more your style, then grab yourself a bag of Laird Superfood Coffee Creamer from your local grocery store. This coconut-based powder contains coconut oil, coconut sugar, and coconut milk powder. Aquamin, which is a multi-mineral complex, is also present in this product.
It is 100% organic, non-GMO, gluten-free, vegan, dairy, free, and soy-free. When the right amount is used, it perfectly balances your coffee. It's not too heavy, and it won't thicken your sweet cup of joe. This is also ideal for coffee lovers who are fairly new to the world of plant-based products.
Milkadamia Macadamia and Coconut Creamer Fudge Flavor
Lastly, we have the Milkadamia Macadamia and Coconut Creamer. What makes this unique is it is infused with fudge flavor, which spikes your daily cup of caffeine with the distinct taste of chocolate. It uses coconut cream and macadamia-based milk to give your coffee a more creamy and smooth consistency.
This creamer is not only plant-based, but it is also gluten-free, kosher, non-GMO, soy-free, vegan, and dairy-free. If you want to spice up your morning cup of coffee with a different flavor, we highly recommend this product.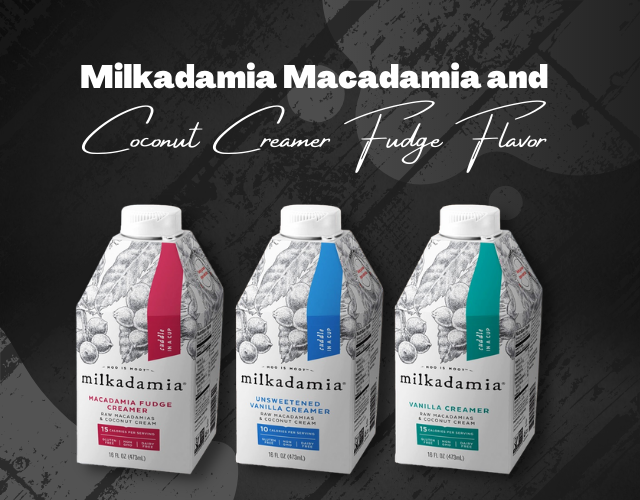 We highly recommend Milkadamia Macadamia and Coconut Creamer Fudge Flavor to coffee lovers who enjoy a sweet and decadent cup of caffeine. If you add creamer to your coffee to simply make it less bitter, this is also an ideal product for you.
With or without flavor?
A lot of our recommendations have additional flavorings like vanilla and fudge. Others are just plain or original flavored. The majority of creamers also come in hazelnut, Irish cream, and other unique flavors. But the question is, should you be buying flavored creamers or not?
Nothing beats a nice cup of freshly brewed coffee. But let's face it, we do get bored drinking the same flavored drink every day. More often than not, unflavored coffee beans produce bland or boring brews. This is why most people opt to go for flavored creamers.
Now, let us talk about the downside of using flavored dairy-free creamers. There are usually more calories and sugar in the creamer if it has added flavoring. If you are on a strict diet or simply want to avoid consuming unnecessary calories, you're probably better off using unflavored dairy-free creamers.
Furthermore, if your coffee grounds have a distinct floral or fruity note, using vanilla, hazelnut, caramel, or any other flavored creamer could ruin the resulting brew. You will completely miss out on the flavor profile of the coffee grounds.
Milk Alternatives vs. Dairy-Free Creamers
You're probably asking yourself, "Why can't I just use non-dairy milk like almond milk or soy milk? Why do I have to use dairy-free creamers specifically?". There is no issue in pouring non-dairy milk into your coffee. But you have to consider the fact that non-dairy milk does not blend well with hot coffee mainly because of the acidity. If you try pouring some almond milk into your cup of coffee, it will clump up or curdle. However, if all you have is non-dairy milk, there is a way to work around this.
First, you might want to drink your coffee with ice instead. Alternatively, you can opt to use the cold brew method. This brewing method requires a lot of time but very minimal effort. Second, try pouring in the milk gradually. Don't just dump it in.
Although a lot of coffee lovers swear by these tips, it is not guaranteed to work with all brewing methods. So it is a good idea to test the waters first or read some user reviews on the product. But the best thing that you could do is to stick to products labeled as coffee creamers.
Make your own dairyless creamer.
If you can't seem to find the right dairyless creamer, you have the option to make your own. That's right! You can easily make dairy-free creamers in the comfort of your own home. There are a lot of methods that you can use to create your very own creamer. So don't be afraid to try all of them out to see which method produces the creamer that you want.
Here is a simple recipe for you to follow to jumpstart your DIY dairyless creamer. You will need:
·    ½ vanilla bean or 2 tsp of vanilla extract
·    1 can sweetened condensed coconut milk*
·    1 can of full-fat coconut milk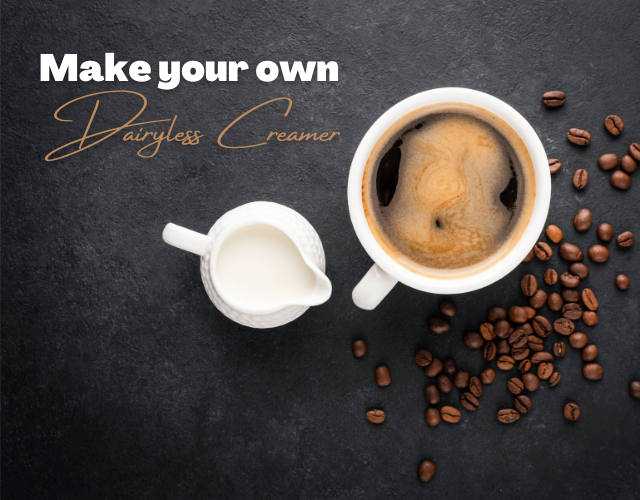 *You can substitute this ingredient with your choice of dairy replacement if you want to be able to balance out the sweetness. But make sure to use coconut sugar as well.
To make your own non-dairy creamer, just blend all these ingredients together and let it chill in the fridge for a couple of hours. However, if you're using vanilla beans or sugar, you will have to use your stove to melt these ingredients. Make sure to strain the mixture after you heat it up.
This recipe will also allow you to experiment with other flavorings. You can add other ingredients like cocoa, dates, nut milk, hazelnut, and many other flavors to spice up your dairy-free coffee creamer. But make sure to adjust the ratio so these additional flavors won't overpower the creamer.
Check the label
Before you grab a carton, bottle, or bag of that non-dairy creamer that you saw on a commercial, you might want to look out for a couple of things. It's very important that you look at the label and check the ingredients of the creamer. Here are a couple of things that you should keep in mind before purchasing any kind of coffee creamer.
Color
The color of the creamer can help determine how fresh and organic the creamer is. A lot of brands use artificial coloring to make it look creamier than usual. It won't really affect the taste of the creamer, but some people may have concerns regarding artificial coloring.
A number of consumers have a problem consuming artificially colored products. So make sure to read the label to see if any of those ingredients are present.
Steer clear of generic brands 
More often than not, the quality of generic brands is, well, quite generic. The cheaper or more affordable the product, the less reliable it is. After all, if you want your creamer to be cheap, you have to sacrifice quality or even taste. But if you really have no choice, just make sure to read the labels on the back as well as the ingredients used to make that particular creamer.
Additives and Sweeteners
Not all non-dairy brands use the same type of sweetener or additives. These are used to enhance the sweetness as well as the texture of the product. Some brands use carrageenan, and others use corn syrup. If you are following a strict diet or are allergic to other additives or sweeteners, then it's very important that you know what's in the creamer that you are buying.
Go for less oil
In case you are not aware of this, the list of ingredients on the back of the product is based on the quantity. For example, if oil is the first ingredient on the list, this means a huge amount of oil was used in that product. You want to avoid having oil at the very top of the list. The more oil used in the creamer, the worse the texture and taste of the product.
Conclusion
That about does it for our recommendations for non-dairy and dairy-free products. Although there are more options out there, these are our personal favorites because of many reasons. But don't take our word for it. Try them all out if you want. This way, you'll know which creamer goes with the type of coffee you are into.
If you simply can't find your ideal creamer or none of our suggestions resonate with you, you are more than welcome to create your own. Just make sure to follow the ratio we gave you above and adjust it depending on whether you want to add additional flavorings or not.
Lastly, keep the factors we mentioned above in mind every time you want to try out a new creamer. Generic brands may be cheap, but sometimes, they are not really worth it. You're better off using branded creamers to ensure maximum quality, taste, and freshness.
10% OFF our entire store with coupon code "10OFF" at checkout
MEDICAL DISCLAIMER
This content is for informational and educational purposes only. It is not intended to provide medical advice or to take the place of such advice or treatment from a personal physician. All readers/viewers of this content are advised to consult their doctors or qualified health professionals regarding specific health questions. Neither Dr. Charles Livingston nor the publisher of this content takes responsibility for possible health consequences of any person or persons reading or following the information in this educational content.
All viewers of this content, especially those taking prescription or over-the-counter medications, should consult their physicians before beginning any nutrition, supplement or lifestyle program.