Get to Know Your French Press Better - Tips and Tricks for the Perfect Cup of Coffee
One of the best parts about being a coffee consumer is the immense variety of brews and types you can enjoy. From different flavor profiles and rich aromas to numerous preparation techniques, there is just so much to explore and try out! While fancy lattes and cappuccinos are undoubtedly delicious, the charm of a traditional cup of coffee still manages to hold its place in our hearts. And there is no better way of making a delicious cup of coffee than through a classic French press.
French pressed coffee is among the cheapest and simplest ways of getting your morning mug ready. However, don't let that mislead you into thinking that it compromises quality or taste. After all, French pressed coffee is loved by people around the world for its rich flavors and a soothing aroma that has the power to make your mornings much more enjoyable. And it does so using just coffee, water, and your trusty French press machine!
To help you discover the wonderful world of the French press and get the most out of your machine, we have compiled together everything you should know. This blog post includes it all; starting from what is French press coffee and taking you through all of the steps on how to make the best French press coffee ever!
P.S. We have also added our tried-and-tested tips for French press at the end to truly elevate your coffee game. Be sure to try them out and show off these newfound coffee preparation skills to your family members and colleagues!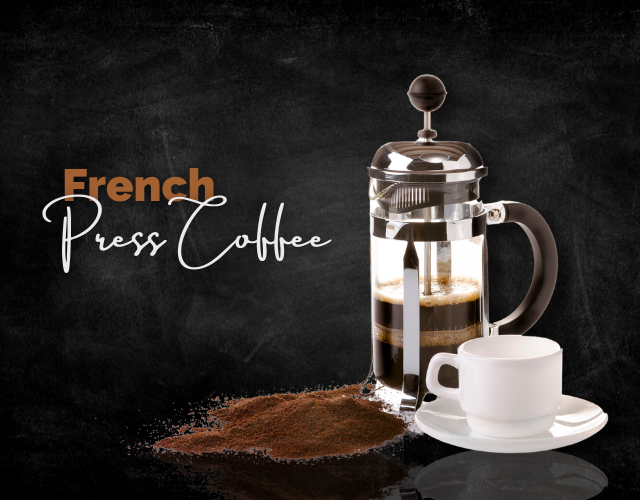 What is French Press Coffee?
Before we give in to the techniques and tips, you should first understand what exactly a French press is and why it's so beloved among coffee connoisseurs around the world.
The French press is simply a manual way to prepare your coffee. It is the ideal technique for people who not only enjoy drinking a classic cup of coffee but also take great pleasure in the process. Your French press uses a coffee plunging machine to add pressure to the coffee beans for a delicious brew. Now, you're probably wondering how does the French press technique stand out?
Most traditional coffee filters absorb most of the oils, and thus the flavor, of your coffee beans. While you may still get good-tasting coffee, the result can actually be highly enhanced by using a French press machine. This is due to the French press technique allowing your coffee beans to steep well, creating a completely saturated brew with a rich flavor profile. Moreover, since you can easily manipulate the temperature of water used in the press, it allows you more control over your coffee.


French press machines come in two different types:
Thermal French press

Traditional glass French press
Although the glass French press looks better and has that stunning rustic look, a thermal French press is more functional. Thermal French press machines are insulated to keep your coffee hot for a longer time. They are also travel-friendly and sturdier.
Ingredients Needed for French Press - A Quick Roundup
The right ingredients used at the right temperature can have a huge impact on the final taste and richness of your coffee. Therefore, before diving into the French press technique, we have summarized the ingredients needed below. We also mentioned the best conditions and texture to use for the perfect cup of French press coffee. To cut it short, a French press requires three ingredients; coffee, water, and lots of patience. Let's see how you should use all three of these.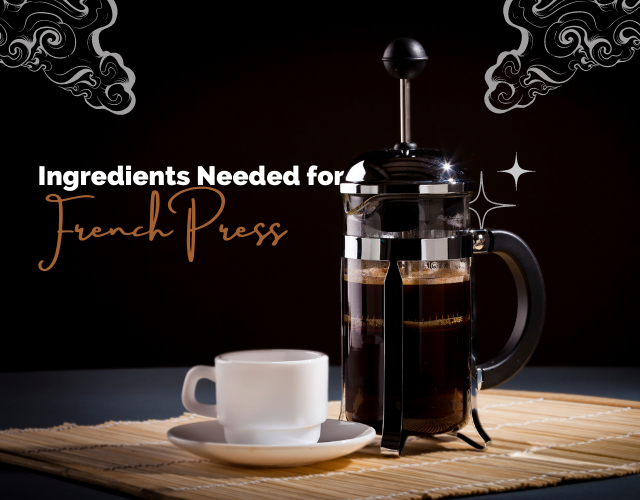 Coffee
No matter what blend of coffee you prefer, having freshly ground coffee from Lifeboost is a must to get that perfect cup of French pressed coffee. Another thing you should keep in mind is that French press machines require coarser ground coffee grounds than the typical drip coffee machine. So, if you're grinding your own beans, make sure you get the right consistency and texture. You should also ensure the grind is uniform to get a balanced and delicious cup every morning (and evening if you're like us!)
As you start practicing how to use a French press, you will probably need a few tries before you get the perfect coffee grounds. Don't worry, practice does make perfect so just keep trying until you get it right! Another thing to remember is that different levels of coffee grinds work better for different people. We personally like our consistency the size of sea salt, but perhaps a breadcrumbs level would work better for you? Experiment with different grinding levels so you get a better understanding of what your ideal consistency looks like.
Water 


Did you know, the temperature of your water can also alter the taste of your coffee? Yes, it isn't all about the coffee beans and preparation technique! Something as simple as a few °F could be holding you back from getting the most depth and flavor out of your coffee beans! The water you use for your French press should be around 200° F. If you have a kitchen thermometer, it is always best to use that to ensure that the right water temperature is maintained. However, most of us don't have fancy kitchen tools and instead rely on quick hacks to get us through. So, here is an easy way to make sure the 200° F mark is met. 
Simply set your water in a saucepan over the stovetop to boil well. Once it starts boiling, remove the saucepan from heat and leave it for a minute (remember to time it carefully!). Since the boiling point of water is 212°F, that extra minute will bring the temperature down just enough for your water to be ready for the French press. Okay, that's enough chemistry, let's move on to the next (and quite essential) ingredient; patience!
Patience
Lastly, you will need some patience. Using a French press can take some time, but trust us it's worth the wait!  When you steep your coffee in a French press, you will need at least 6 minutes to get your cup of morning coffee. Although this may not seem like a lot of time right now, trust us it can seem excessively slow when you're rushing to get ready and head to work.
These 6 minutes are distributed in the following manner:
2 minutes to boil the water and grind your roasted coffee beans
4 minutes to bloom the grounds and steep your coffee well
Once your coffee grounds are in the press and your water has reached the right temperature, the time for coffee blooming starts. Blooming is the process of your coffee beans expressing CO2, allowing them to absorb more water for improved flavor. While this step can usually be skipped, we always recommend blooming your coffee for some time to get the best taste and aroma. Even a mere 5 to 6 minutes of blooming can improve the flavor vastly!
Basic Steps for How to Use a French Press
The true beauty of the French press technique is in its simplicity. No matter what time of the day it is, your French press machine can quickly produce coffee that tastes absolutely delicious and leaves you energized for the rest of the day. It really is the perfect way to get your quick fix of caffeine without having to run to the closest coffee shop! 
Here are some easy steps you can follow to prepare your perfect cup of French pressed coffee: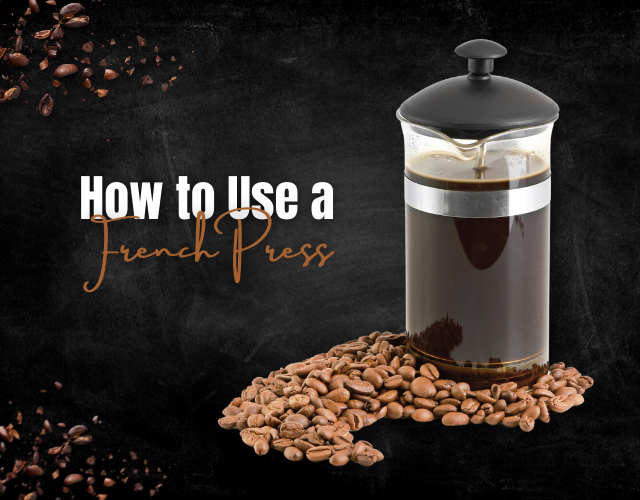 Step 1 - Always Start with Freshly Roasted Beans - 

For a fresh cup of coffee, you need freshly roasted coffee beans (we recommend Lifeboost coffee for premium quality beans). This is the best way to ensure that you get an aromatic and fresh cup of coffee that gives you that perfect kick of caffeine to wake up in the morning. 



Step 2 - Grind the Beans Right On-Time - 

Once you have procured your favorite blend of coffee, it is time to grind the beans. Expert baristas recommend not pre-grinding your beans as they release gases that can tamper with the flavor of your coffee. Instead, you should grind them right before you use the French press for maximum depth of flavor. 

Also, be sure to take into consideration our notes on the perfect ground level of coffee (mentioned above). The fineness and consistency of the ground beans can make quite a difference in how smooth and uniform your coffee tastes. You can achieve a uniform and slightly coarse grind using a burr coffee grinder instead of a blade grinder.



Step 3 - Get the Perfect Coffee: Water Ratio -

The perfect coffee: water ratio can be found below. However, you may want to tweak the measurements slightly based on how weak or strong you like your coffee. We prefer our morning coffee quite strong, so adding an extra few grams of roasted coffee beans works well. In the evenings, we prefer the 1:16 ratio for a smooth and relaxing coffee experience.



Step 4 - Use the Right Temperature of Water -

 Too many coffee lovers make the mistake of focusing entirely on the coffee beans and forgetting about how important a role water plays in brewing the perfect cup of coffee. For your French press, we recommend skipping out on distilled or RO water because the minerals present in water can enhance your coffee's flavor.

Also, make sure your water is at the right boiling temperature for the best brew. This will help you avoid burning the beans; more on achieving the right temperature below!



Step 5 - Preheat Your French Press and Mug -

The next step is to get your French press machine and coffee mug at the right temperatures. It ensures your coffee stays hot for longer and prevents quick temperature changes which could damage the beans and interrupt the blooming process.

You can preheat your French press in the microwave if it is made of microwave-friendly material. Another way of pre-heating the carafe and mug is by pouring in some boiling water, swirling it around, and letting it sit for 30 seconds.
Step 6 - Let it, Bloom - 

Now that both your carafe and mug are ready, you can begin extracting flavors from your coffee beans for the perfect brew. 

Add your freshly roasted, ground coffee beans into the carafe and give it a gentle shake, allowing the beans to spread out evenly. Pour over the hot water in a rotary motion, wetting all of the grounds evenly.

Fill up the carafe to half of its capacity and set a timer for 30 seconds. This is where the blooming process begins.

As the coffee grounds bloom, they will release gases to allow better extraction when you add more water.

When you notice the coffee becoming bubbly, it is a sign that blooming is complete. Give your coffee a gentle stir with a wooden spoon to break through the coffee crust.




Step 7 - Add More Water - 

With blooming complete, pour over the rest of the water in your carafe.

Put the lid of the French press and gently lower the plunger till the mesh slightly comes in contact with the water surface.

Don't push the plunger all the way yet!

Set your times for 4 minutes to let the coffee brew well inside the French press machine.


Step 8 - Plunge and Pour It Out -

 

As soon as your timer rings, you can press the plunger all the way down. But, do so gently without too much force. Forceful plunging will agitate the coffee beans and add extra bitter tones to the drink.

 That's it; your delicious coffee is ready!

Decant the coffee into your preheated mug immediately. Leaving the brewed coffee sitting in the carafe can cause over-extraction and give you a bitter-tasting drink.


Step 9 - Clean the Press -

 

Now that your coffee has been poured and devoured, remember to clean your French press machine before heading out. In the next section, we have given detailed steps on the best way to keep your press clean and ready for use the next day.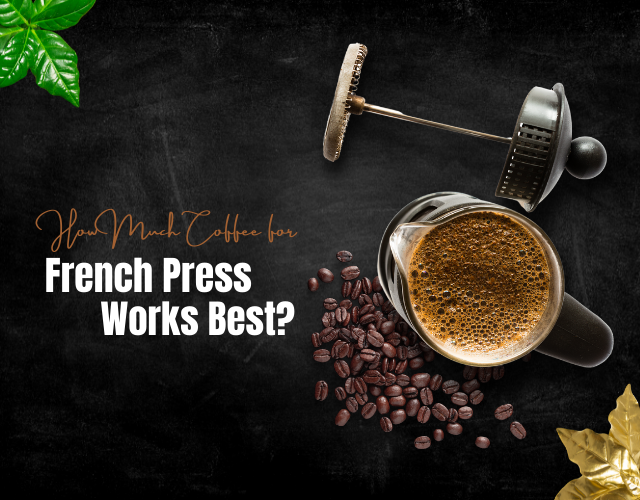 How Much Coffee for French PressWorks Best


People are often confused about how much coffee they should put in their French press machine for an excellent brew. With coffee beans, eyeballing isn't a very good idea and can often result in a dilute or overly concentrated cup. Additionally, we're sure you don't want to spend every morning trying to estimate whether you've ground enough coffee or need to add some more. Who even has time for that when you're already running late for work?!
A great way to avoid that early morning panic is by following the simple water to coffee grounds ratio. While the amount of coffee grounds you should put in your French press does vary based on the size of the machine and how many cups of coffee you want to make, a general ratio to follow is 1:16. This means 1 gram of ground coffee beans from Lifeboost Coffee for every 16 grams of water. Remember to measure it on a scale instead of guessing your way through and hoping you got it right!
How to Clean Your French Press
Now that your French pressed coffee is ready, sit back and enjoy the delicious, piping hot cup. Once you're done, it is time to clean up the French press machine. You can follow these easy steps to get it done quickly.


Let your French press cool down. Trying to clean a hot French press machine will cause you to burn yourself and can also shatter the glass when you pour in cool water.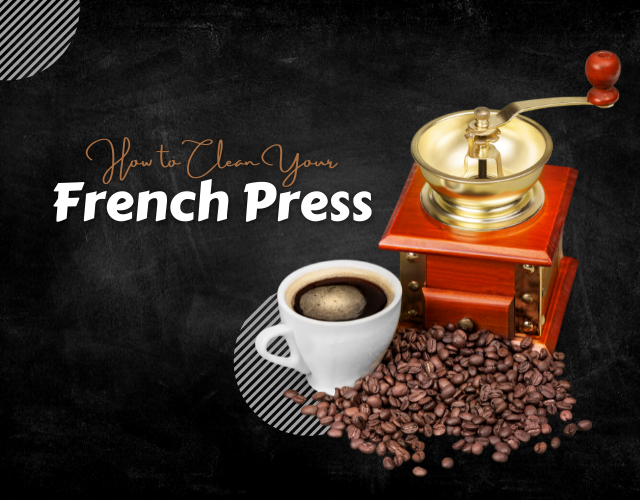 Once the machine has cooled down, remove the coffee grounds using a plastic spatula and add them to your compost. Being environment-friendly is important now more than ever!
Pour in a mixture of gentle dish soap and water into the French press machine. Use the plunger to move the soapy liquid around to clean your machine well from inside.


Rinse out the soapy mixture with water and repeat this process for extra cleaning.


Let your French press machine dry by disassembling it so the water evaporates from all of the parts. Then put it back together and store it in a safe spot in your kitchen that is away from children and pets' reach.
Pro-tip: Disassemble your French press and deep clean it properly every two weeks with a solution of baking soda and vinegar. This is the best way to keep your machine and the plunger clean and hygienic.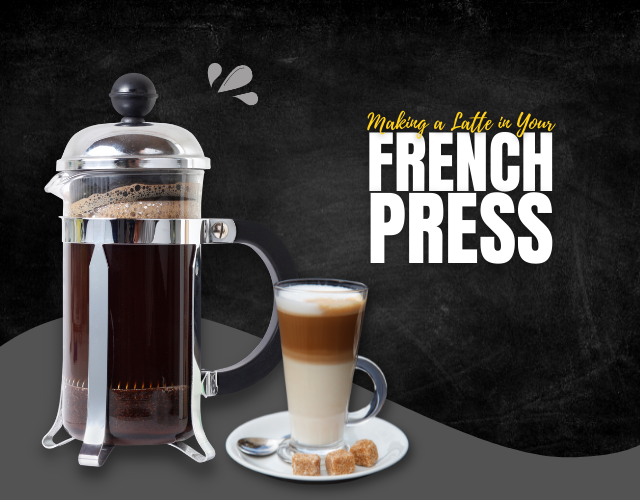 Making a Latte in Your French Press
Interested in learning some other ways of preparing your coffee in a French press? You can even make a latte in this machine! Here are the ingredients you will need:


4 tablespoons of Lifeboost coffee.
Fresh, filtered water.
1 cup of whole, almond, or oat milk.
A milk frother
A French press machine
Follow these easy steps for the perfect, French pressed latte:
Measure out 4 tablespoons of freshly roasted and ground coffee beans into your French press.
Pour in your filtered water to a saucepan and bring to boil. Then, let the water sit for 25 - 30 seconds at the right temperature.
Follow our steps for the perfect French pressed coffee to get your brew ready.
Add cold milk to a frother and microwave it for 40 seconds.
Run the frother to make the milk foamy.
Fill your favorite coffee mug halfway with the French pressed brew and pour a small amount of unfrothed milk into it.
Top off your mug with the frothed and steamed milk for the perfect French pressed latte!
Secret Barista Tips to Make the Best Cup of Coffee in a French Press 
Ready to learn all of our coffee secrets? Below, you can find a list of our tried-and-tested French press tips to elevate the flavor and aroma of your coffee:
Use a kitchen scale to measure out the coffee beans and water.
Invest in a good grinder for the best results.
Always opt for a medium-coarse grind to French press.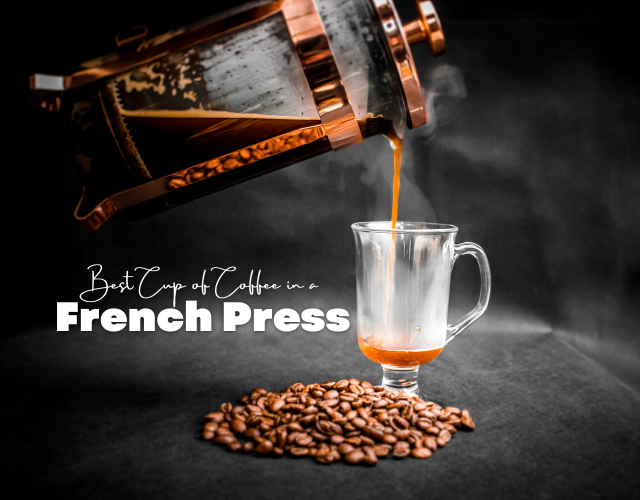 If you're using a finer grind, opt for a shorter brew time. For coarser grinds, a longer brew time works better.



Sift out your coffee grounds for uniformity and a consistent flavor.

Use hot water, but not boiling as it can scald your beans and result in a burnt flavor.


Always preheat the French press machine before adding the coffee grounds.


Don't stir your coffee; just let it sit for the perfect bloom.


Keep your coffee grounds below the filter when you plunge.



Stir vigorously to start the brewing process, give the coffee a few gentle stirs in the middle for saturation and finish with a quick, light stir at the end before you plunge.
Final Words 
There you have it, everything you need to know about preparing a piping hot mug of delicious coffee without a coffee maker! Remember; when there's a coffee craving, there is a way to make it. You just have to get creative with all of the tools and equipment already present in your kitchen and come up with fun, unique ways of substituting them for filters and coffee makers.
It also helps to have fresh, high-quality beans, like the ones from
Lifeboost, in your pantry. That way, it doesn't matter if you're using a rolling pin instead of a grinder, or the stovetop instead of some fancy coffee machine, you will still get a rich, flavorsome brew in the end!
Let's Get Brewing!
Congratulations, you've just mastered a whole new coffee preparation technique! As you go about practicing this skill to perfection and making delicious, aromatic cups of coffee each morning, remember that the coffee beans you use can make all the difference. No matter how perfect your technique is, your coffee will only taste good if you have premium quality coffee beans that have been freshly roasted.
But, how can you assure that your coffee beans are fresh and haven't been waiting on store shelves to be picked up?
The solution is quite simple, just order from Lifeboost coffee!
With utmost devotion to bringing the best quality of coffee beans to every home in America, Lifeboost coffee takes extensive measures to ensure freshness and the perfect roast. All our coffee beans are roasted on order. This means that your coffee is only prepared after you've placed your order, and it degasses during transit through our specialized one-way valve packaging.
Not only will this ensure you get freshly roasted, superior quality coffee beans, but the packaging also minimizes oxidative degeneration to preserve the bean's flavor profile so you can enjoy all of the fruity and earthy undertones. Additionally, our coffee plants are Shade Grown, which means they are placed under a sun-filtering canopy. Since the beans mature at a slower rate under this setup, it allows them to become denser and develop a rich flavor.
Ready to order freshly roasted, gluten-free coffee beans to use in your new French press? Place your order with Lifeboost coffee today!
10% OFF our entire store with coupon code "10OFF" at checkout
MEDICAL DISCLAIMER
This content is for informational and educational purposes only. It is not intended to provide medical advice or to take the place of such advice or treatment from a personal physician. All readers/viewers of this content are advised to consult their doctors or qualified health professionals regarding specific health questions. Neither Dr. Charles Livingston nor the publisher of this content takes responsibility for possible health consequences of any person or persons reading or following the information in this educational content.
All viewers of this content, especially those taking prescription or over-the-counter medications, should consult their physicians before beginning any nutrition, supplement or lifestyle program.