Best Ninja Coffee Maker Models: Old and New
Gone are the days when having your caffeine fix is confined to going to a posh coffee shop and paying generously for it. Today, all you need is a coffee maker to brew you a cup in the comforts of your home.
Formerly, you needed several appliances to achieve that perfect brew, but today a Ninja coffee maker is all it takes. It is like your one-stop-shop for your coffee needs, as it can perform several brewing capabilities excellently.
Now, you may be wondering how is that possible? How can a single machine do all the tasks needed for your perfect cup? Perhaps this review of the top Ninja coffee makers from both old and new offerings will convince you why it is so.
Read on!
 What is a Ninja Coffee Maker?
If you are familiar with Euro-Pro Operating LLC, then you have encountered SharkNinja Operating LLC. The change in the company name took place in 2017, but it is still the same brand. Founded in 1996 in the United States, they are makers of household appliances ranging from vacuum cleaners to coffee makers. 
Ninja CP307 Hot and Cold Brewed System
This is the Ninja coffee maker brew system that replaced the former coffee bar lineup. If you think that the former was versatile enough, you will be surprised at how much this model brought it a notch higher. You can brew different coffee cup sizes with the CP307: travel mug, XL cup, XL multi-serve, half or full carafe; your options are numerous.
It includes all the basic brewing options described earlier: classic, iced, rich, and specialty. What is even more interesting is that it can do more than just coffee. You may brew tea using this machine, too!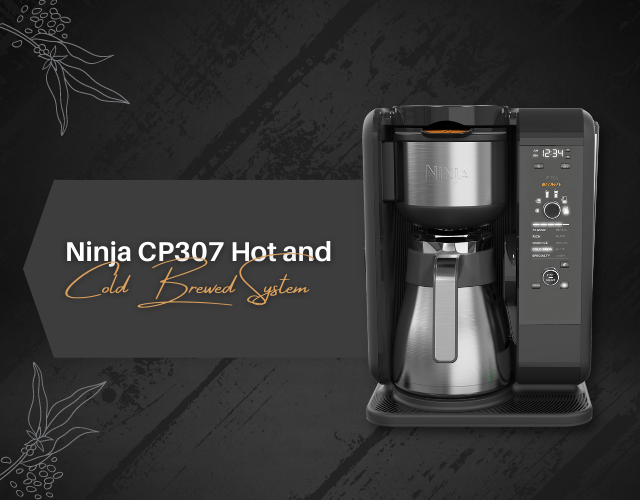 Included in this model are the following:
Coffee and tea filters
Separate coffee and tea baskets
Ninja smart scoop
Removable water reservoir
10 cup thermal carafe
Fold-away frother
40-recipe book
User manual
If you are looking for similar features, which offer a glass carafe, you may want to consider the Ninja CP301 model.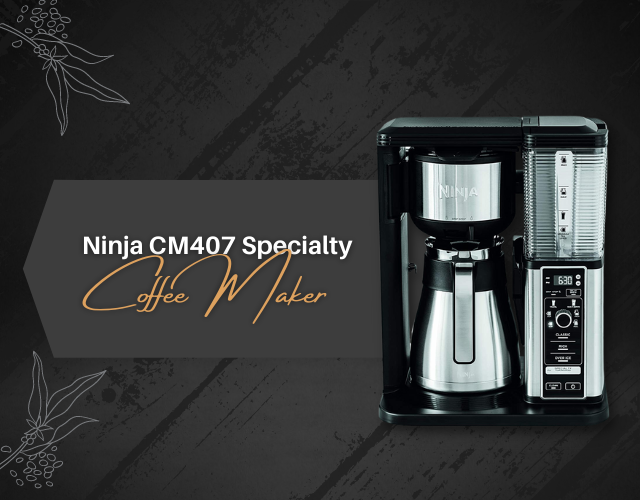 Ninja CM407 Specialty Coffee Maker
In essence, this and the previous model we discussed are quite the same. The former has just a bit of an advantage as this one has more limitations in brewing. Don't be disappointed just yet; you will still get that perfect cup, as the limits are mostly on the tea area. 
CM407 Ninja coffee maker also has the usual brewing options, all four of them. You can also use the regular cups, travel cups, XL cups, XL multi-serve, and a half and full-sized carafes for the cups. 
Included are the following:
10 cup thermal carafe
Fold-away frother
recipe inspiration guide
ninja smart scoop
gold-tone permanent filter
If you are looking for a model that offers a glass carafe for the specialty option, check out Ninja coffee maker CM401. 
Ninja CE201 Coffee Brewer
If you love the classic coffee cup and want to keep things simple, then this is the Ninja coffee maker for you. The CE201 is the model with the least brewing options, but the trade-off is in the capacity. 
It is a 12-cup programmable model, making it very versatile. You may choose to do that 12 cups at once or go for small batches. You can brew to as few as one cup. It only has two brewing options: rich and classic.
What you will notice in this brewer is that the grounds are evenly saturated, and that is due to the XL showerhead. You will surely enjoy high-quality coffee every time.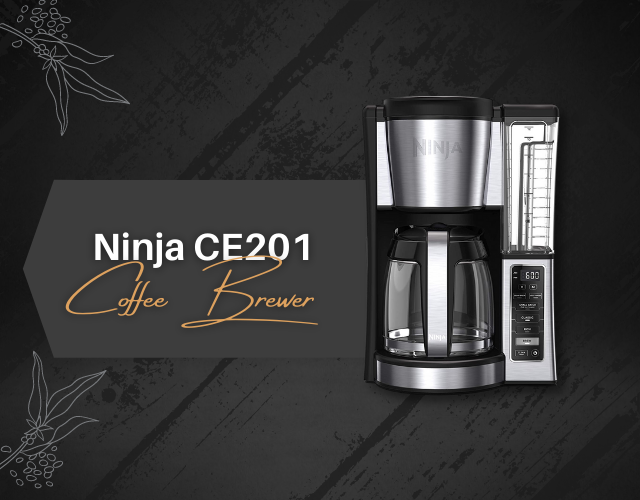 Included in this model are the following:
Removable water reservoir
Ninja integrated scoop
Gold-tone filter
Glass carafe
Old School But Still Cool
Although there are many new models of Ninja coffee makers, those who have been loyal to this brand would still prefer the older models. Well, we cannot blame them because we also have our favorites from those options. 
The products are often labeled as "renewed" or refurbished. They are what is referred to when you hear the term Ninja Coffee Bar. They are the classics, yet they remain to be crowd favorites. So, let us look at our top picks under this category.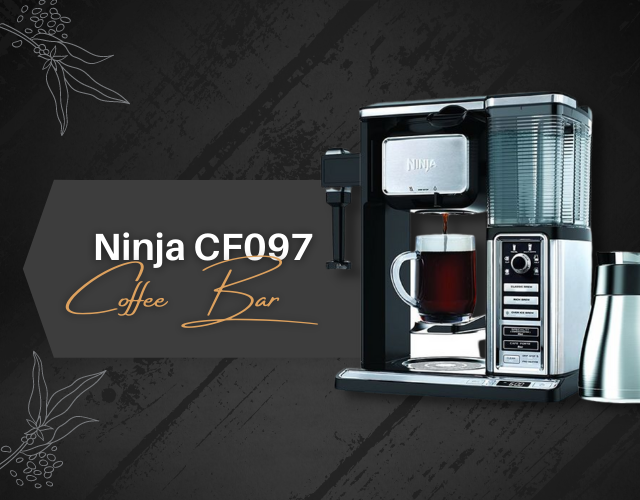 Ninja CF097 Coffee Bar Brewing System 
Being among the earliest models, it comes in a size that could turn you off. At 15 x 11.3 x 16.3 inches, it just takes too much space on your kitchen counter. Then again, do not judge the coffee maker by its look, as the size comes with much versatility.

Its size makes the CF097 Ninja coffee maker able to brew all cup sizes, may it be for a single cup or a full carafe. Aside from that, it also offers five brewing options to have different brews every single working day. No more boring coffee.
It has a 10-cup capacity, so you can invite friends to enjoy a cup. If you want it to look fancy, the built-in frother will do the trick for you. It comes with a thermal carafe, but if you want one that offers glass, you may want to look at CF091.
It has a removable water reservoir that can hold up to 50oz. But having said that, you must be willing to trade off some of your counter space. It also has to be manually shut off, so there are those simple trade-offs if you go for this one. 
Ninja CF112 Single-Serve System
An entry-level coffee machine that can do the job well. This model can brew coffee with the four options plus the forte. It is what you need if only one or two persons at home are into caffeine as it can only produce that much.
However, it may look quite bulky for its capacity, as it measures 12.2 x 11 x 16.3 inches. One common user complaint is having the cleaning light stay on, although the descaling process was done.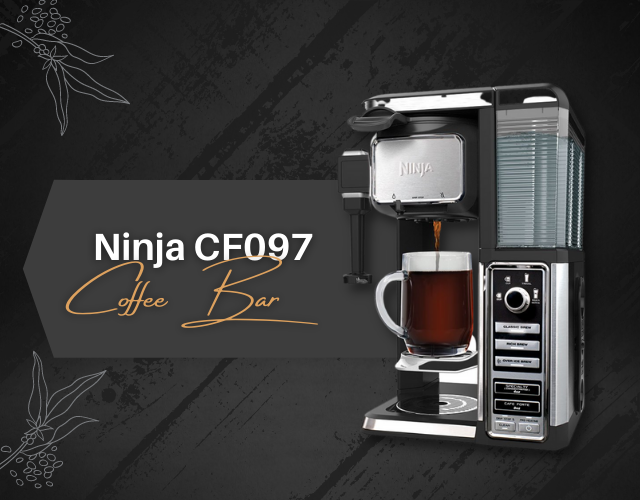 This product features:
A tumbler
Built-in milk frother
Can use both permanent and disposable filters
1-year limited warranty.
Ninja CF087 Coffee Bar Brewer
Another old-school but still popular and very useful Ninja coffee maker is CF087. It does what CF112 does, but with the capability to go beyond just one or two cups. So, you can brew a travel cup, single cup, half, or full carafes. However, it cannot brew XL multi-serve cup sizes.
What makes this a cut above the rest is its pre-infusion feature, which is not found in many coffee makers. In the brewing process, the grounds are wet before the cycle begins. This technique greatly enhances the flavor, making an excellent cup that is best enjoyed slowly. 
The best feature of this product:
Stainless 43oz carafe, double-walled and insulated
What people dislike about it:
No built-in frothing wand
Tips When Choosing The Right Ninja Coffee Maker
Making a decision about what coffee maker to buy to give you your daily brew relies on several things. You don't want to waste your money on a purchase that will not perfectly meet your needs, so make sure that you take note of them before deciding.
Here are some of those that you need to consider before making your final pick:
Your Caffeine Demands
You have to assess how much coffee you drink regularly. Will it be just for a personal cup, or is it for sharing? Would you require bigger cups for brewing? You must identify your drinking habits at the onset to not waste time on the wrong brewer.
If it is versatility you are after, you should opt for CM407 or CP307. They can be used for single cups and other sizes as well. So, if you would like to have a coffee party, these could meet your needs.
Counter Space
One of the main considerations you should have when picking the right Ninja coffee maker is the size, especially if you have limited space. Don't be overly excited by all the other features that you end up having to let go of your other essential kitchen tools to accommodate it.
Frothing Capability
Making a cup at home would be fancier if you could froth your milk the way they do in cafes. So, it would be wise to choose the Ninja coffee maker that can do this for you. Choose the one that comes with a frother to save you money and give your coffee experience a twist.
CM407 and CP307 are the ones that come with built-in, fold-away frothers. So, if you are after this capability, you may want to narrow down your choices between the two.
Brewing Experience
A crucial part of making that great leap to getting a coffee maker is your willingness to grind the beans of your choice. Keep in mind that this process can affect the final output and could impact your brew. 
You have to ensure that you have the knowledge or are at least willing to learn the process. Otherwise, you might have to look for other options for coffee makers that will not be as technical.
What to Go For?
We have outlined the highlights of each of the top Ninja coffee makers. The final verdict will depend on what you need. They each have their pros and cons from the size, brewing capabilities, and versatility.
If you want a simple model, go for CE201. If you want the flexibility to accommodate even your tea cravings, then choose CP307. If you are a purist, pick CM407. However, if none still works, you may always look at the old-school options; perhaps they can best cater to your requirements.
Check out Lifeboost Coffee for the healthiest and tastiest coffee possible. Enjoy your cup!
10% OFF our entire store with coupon code "10OFF" at checkout
MEDICAL DISCLAIMER
This content is for informational and educational purposes only. It is not intended to provide medical advice or to take the place of such advice or treatment from a personal physician. All readers/viewers of this content are advised to consult their doctors or qualified health professionals regarding specific health questions. Neither Dr. Charles Livingston nor the publisher of this content takes responsibility for possible health consequences of any person or persons reading or following the information in this educational content.
All viewers of this content, especially those taking prescription or over-the-counter medications, should consult their physicians before beginning any nutrition, supplement or lifestyle program.