Best Coffee for French Press: Getting Into the Nitty Gritty
Due to the increasing popularity of coffee makers for home use, many coffee-lovers have turned into personal baristas overnight. French press turned out to be among the most-loved brewing techniques for many of them. 
Although there are many other methods to choose from, overwhelming support from enthusiasts is thrown behind this one. However, these people agree that finding the best coffee for the French press is the key to creating that excellent cup. 
The technique may be crucial, but what you put in that tool makes a lot of difference. Thus, if you want to bring that cozy coffee experience home, you better learn how to choose the bean and grind. 
It is for that very purpose that we are here. We want to help you get into the specifics of choosing the best coffee for the French press. More than just telling you about these options, we will provide information to help you understand why we made those choices.
In the end, we would like to equip you, hoping that after you've read this article, you can go on your hunting for the best coffee for the French press.
What is a French Press?
Coffee aficionados are very familiar with the French press, but let us provide a brief description of it to make the discussion clearer. The French press is a device for brewing coffee. It is also known as a press pot, coffee plunger, coffee press, and cafetière, among others. 
It is mainly used for brewing coffee, although the initial inspiration of the inventor was a tomato juice separator. Today, it has evolved to be used for purposes other than coffee-making. Going Back to The Bean and the Grind.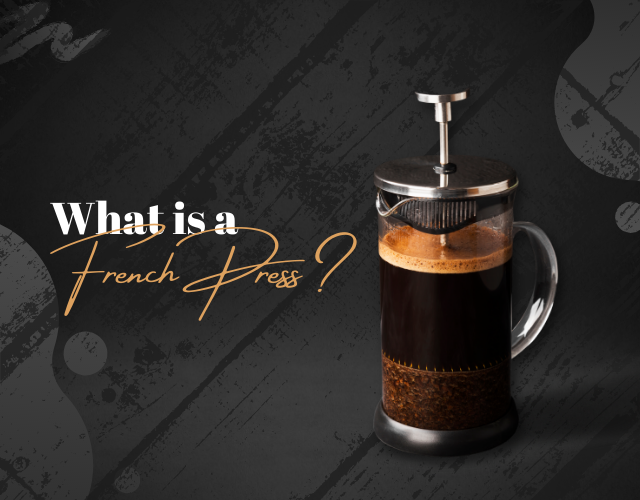 Now that we have tackled the method let us go back to why we are here: to find the best coffee for French press. There are many good coffee beans out there. Rarely would you find one that is so bad that you can't stand it. However, some varieties are just better than others, especially when it comes to this brew.
We would also like to encourage you to grind the coffee beans yourself. Yes, it is tempting to use readily-ground supplies for convenience. However, if you are very particular with the taste, you will see the difference between the instant and the one you pressed yourself.
One of the major reasons it is crucial to grind it yourself is that using finely ground coffee could result in a cup with residue. Although the French press has a mesh filter, they could still get through. You better leave that option to your espresso machine. 
What you need to achieve is a medium to coarse grind. There must be enough water to cover the surface during the extraction process. This texture also enhances the flavor of the final output as it allows for a better release of carbon dioxide during steeping. 
Grinding your coffee beans will also ensure that your brew will taste good and be visually appealing. It would be clearer and brighter, making your cup look even more inviting.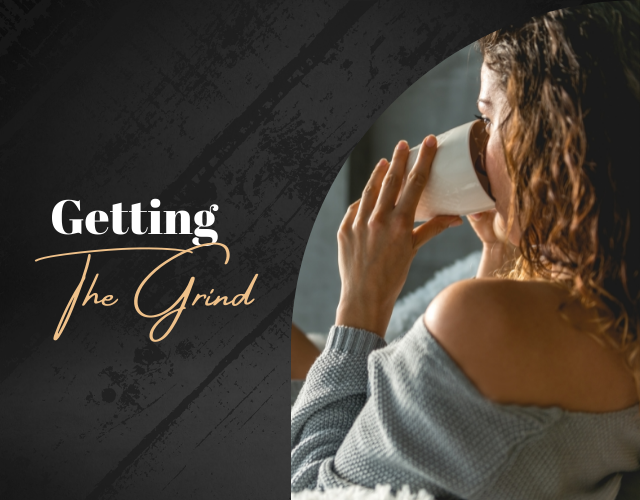 Getting the Grind
It is easy to say that the best way is to go for the ones which are not finely ground. However, some struggle on how to go about it.
It is actually simple. The first obvious thing to do is to pick your choice of the best coffee for the French press, use a coffee grinder, and do it yourself at home. You may buy a manual or an electric coffee grinder for this purpose.
You can also be creative and find ways to do so without having to spend on a grinder. It could require relatively more tedious manual labor, but that would often add to the appeal of the brew. 
If you don't feel like adding that extra job to your enjoyment, you may also ask the shop where you buy your beans to grind them for you. The downside is that not all shops offer this, so you better look for specialty coffee shops.
Even simpler is to buy those brands that are already coarsely ground. There are many products like that sold in stores; you would definitely find them.
Then again, although such options may sound appealing, many home baristas swear to the superiority of grinding your beans at home. In the end, the best coffee for French press is still that which you put additional labor of love in. 
What Is the Best Coffee for French Press?
As promised, we will be tackling the best coffee for the French press to give you an idea of what to look for and what to consider when picking what to use at home. We will keep the list short yet very informative.
Now, let's get started!
Huckleberry Roasters Flores Belas
This Latin American coffee is not just sweet and inviting because of its name, which is translated as "beautiful flowers," but also because it leaves that lovely mood once you've tried it. 
Huckleberry Roasters made sure that you will enjoy every cup of the Flores Belas. The coffee beans are medium-roasted and burst with chocolatey flavor, sweet caramel, and dried fruit.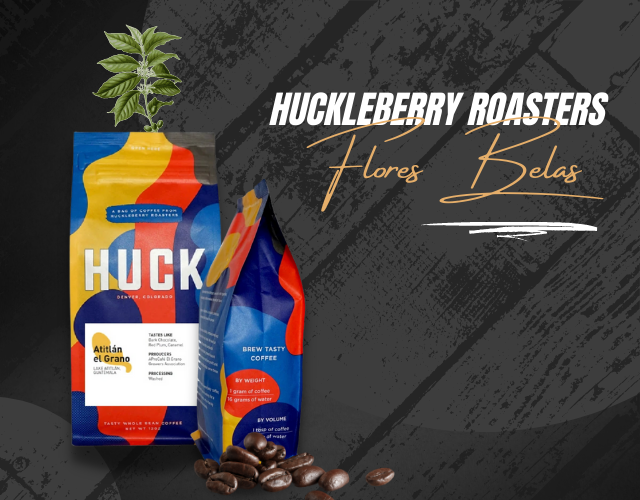 Your mornings will never be the same because that sweet aroma will always welcome them. Whether you choose to have it black or with milk and other dairy creamers, you will see that it is perfect either way and can be tagged as the best coffee for the French press.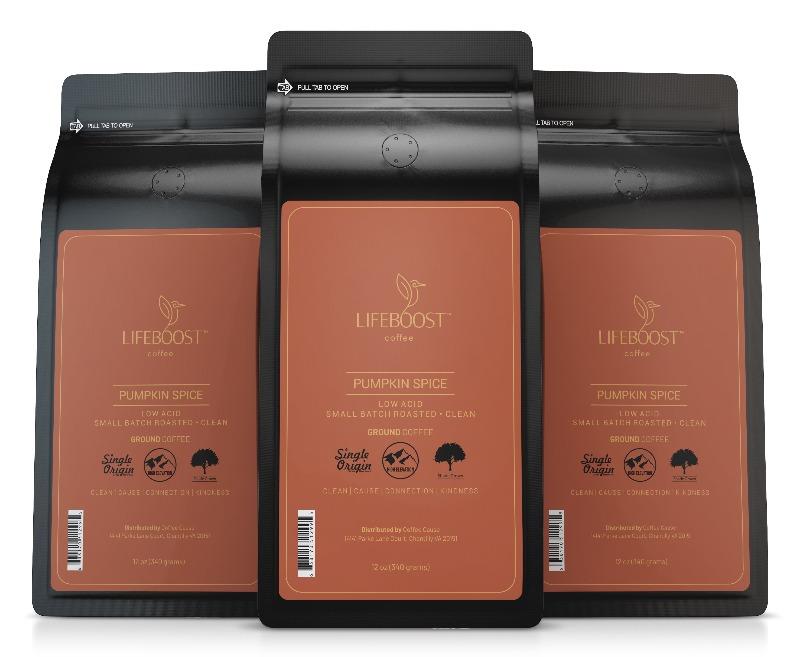 Lifeboost Coffee
If you are looking for organic coffee beans, be sure to check out Lifeboost coffee. The process of growing this coffee and how it gets from the farm to your French press is truly endearing that you would feel so close to nature.
What is unique about this product is that the beans are carefully cultivated, hand-selected, and hand-roasted. Everything is done with gentleness and patience. These coffee beans also belong to the very few of their population that are shade-grown. 
Trivia: only two percent of all coffee beans in the whole world are shade-grown. It means that it is purely organic since no pesticides were used, and it is limited to a minimum amount of sunlight, allowing it to develop its flavor better as it grows. 
If you are still not convinced that it is the best coffee for the French press, then the fact that it has low acidity could finally settle the score. Admit it, though coffee is heaven, for many people, it could cause heartburn and reflux. Lifeboost coffee allows you to enjoy your joe without having to worry about the after-effects.
Cuvee Coffee Emporium House Blend
Coffee brings people together. Coffee shops are the best meeting place, whether for casual or business gatherings. That is the characteristic of the Cuvee Emporium blend that makes it the best coffee for the French press.
It combines premium beans from Colombia, El Salvador, and Nicaragua, creating that unique harmony of flavors you will surely enjoy in your homebrew. The choice house-blend of Texas-based roastery is the type that any coffee-lover would enjoy.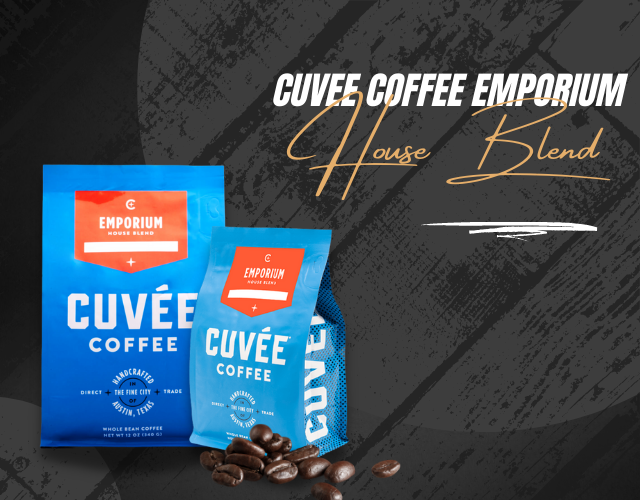 Bringing this sweet and smooth java_home will transform every coffee table into your comfort space. Savor its toasty and malty flavor, and with trained buds, you will catch a hint of black tea. It is the cup you will keep coming back to.
PT's Coffee Flatlander Signature Blend
PT's Coffee beans originate from South America but are processed meticulously in Topeka, Kansas. It is a perfect pair to your French Press as this method helps magnify its natural flavor of sweet caramel and a touch of citrus from tangerines. 
In 2009, this brand received the "Roaster of the Year" award from Roast Magazine. This accolade is a testament to its supremacy and backs it as the best coffee for the French press. Your morning will always be special with this signature blend. 
Cafe Vita Bistro Blend
The explosion of flavors is one thing you can expect from the Bistro Blend of Cafe Vita. Imagine a cup of nougat, caramel, berry, and cocoa playing in harmony as they tickle your taste buds while enjoying your French pressed cup.
You will surely love this medium-roasted blend from East African, Indonesian, and South American coffees. Combined, they produce that smooth, balanced blend that you will keep looking forward to every waking day. 
Paubrasil Blend by Stay Golden Coffee Co.
It is safe to say that this is among the best coffee for French Press entries with which you can easily identify the origin. As the name says, it comes from Brazil, from Cerrado Mineiro, to be exact. After freshly being imported, it goes through light-medium roasting in Nashville, Tennessee.
It is easy to fall in love with this coffee because of the sweet taste and the inviting aroma of cherries combined with creamy chocolate milk. Every cup is a delicious treat. You will always have a wonderful time with this brew.
Bulletproof Coffee French Kick
It is one of Amazon's bestsellers, and that is for a good reason. The perfect combination of high-altitude Colombian and Guatemalan coffee beans are roasted to perfection to achieve that sweet, smooth, and smoky dark roast with a hint of chocolate. 
What's more, is that it is also visually appealing with its clean, medium-bodied finish. Bring in your cameras and take that Instagramable shot of this well-loved organic coffee, perfect for your French Press.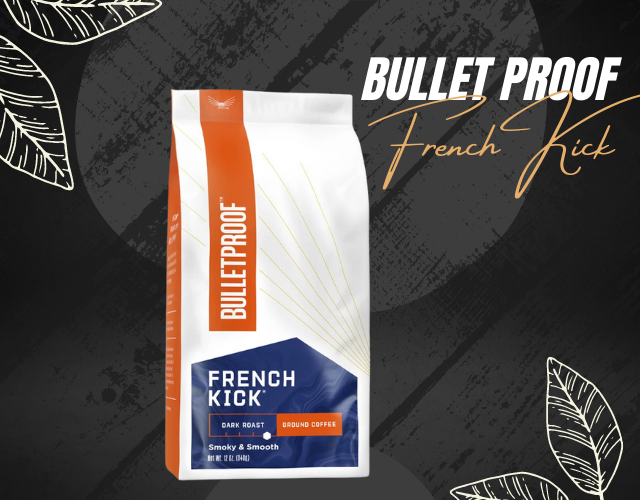 French Press Specialty Coffee by Primo's Coffee Co. 
If you are new to French pressing coffee and are looking into what beans to try first, you should consider Primo's Coffee Co. specialty coffee to avoid disappointments. Just a quick grinding to produce a coarse texture will bring you to the world of wonders of pressing your coffee beans.
It is another shade-grown variety from Nicaragua and is then brought to Texas to be medium-roasted before being sold to coffee enthusiasts. It is mild and has low acidity, which makes it tummy-friendly. The overall experience is a sweet, citrusy flavor that will make every cup a joyful experience without worrying about reflux later.
Koffee Kult Coffee Beans Dark Roasted
This 100% Arabica coffee from the blend of Brazilian, Guatemalan, Colombian, and Sumatran beans is non-GMO. You can enjoy your cup without having to worry about what is in it. It is another product you can easily purchase online so that you don't have to go hunting for it in stores.
This dark-roasted coffee has a very rich flavor, which combines with cocoa and spicy-sweet cinnamon. It is the best coffee for French press for anyone, both newbie pressers, and seasoned ones.
Two Volcanoes Coffee Gourmet Guatemala Whole Bean
Volcanoes explode, and it is such a rightful brand for this coffee, which produces an explosion of flavors that will make you agree that it is rightful to be part of the best coffee for the French press list. 
Originating from Guatemala, the beans are medium-roasted to perfection in small batches and are immediately packaged to retain their freshness. It has a perfect balance of caffeine and acidity, which will make coffee-lovers savor their up without worries. 
Stone Street Cold Brew Coffee Reserve Colombian Supremo
French press for cold brew? Absolutely possible! All you need is a bag of Stone Street Coffee's Cold Brew Reserve. This Colombian Supremo originates from, well, you guessed it right! Colombia! They are imported, dark-roasted, and are distributed by a Brooklyn company. If you are looking for 100% Arabica beans, this is the one for you.
Enjoy your chilled cup of well-balanced flavors with just the right sweetness of the smooth cold brew. It has low acidity and has just the right bitterness that will make you understand why it is the best coffee for the French press that can be used for cold brew.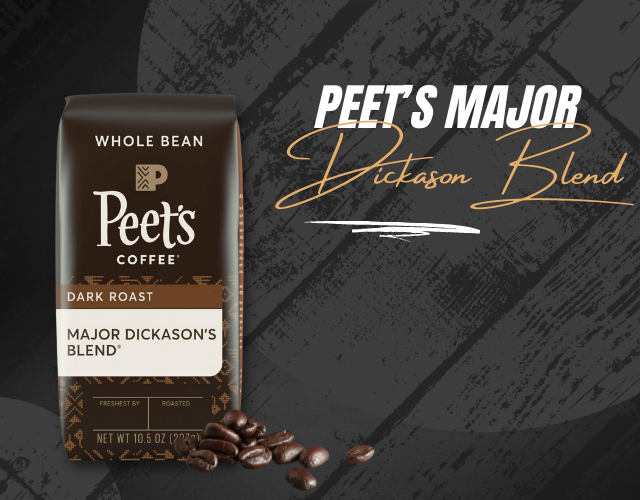 Peet's Major Dickason Blend
Another one of those best coffee for French press top choices is Peet's coffee's, Major Dickason Blend. Roasting from the San Francisco Bay area, it has been in the business since 1966. It has indeed established its name as one of the bests in the industry.
This java blend is roasted to dark perfection producing a rich, complex, yet smooth cup with layers of unique flavors you will enjoy. 
Death Wish Organic Whole Bean Coffee 
Finding a death wish on the best coffee for French press list would shake you up. The brand name will make you think twice until you realize that it stands for strength. If you want that much-needed morning caffeine kick, then this is what you should choose. 
Death Wish is famed for producing the World's Strongest Coffee, with its cup having twice the caffeine in your regular joe. It is not surprising that it is among Amazon's bestsellers. You will get what you expect when it comes to keeping you propped up. 
A combination of pure Robusta and Arabica beans sourced from a USDA-approved organic farm, the beans are dark-roasted and, when blended, will exude that perfect combination of smooth cherry and cocoa brew anyone would love in their cup. 
Doing It Right
Even though you have found the best coffee for the French press, there are still some things that could go wrong, which can make your java experience a disaster. 
It may seem simple, but doing French press can be quite tricky, especially for the newbies. Some things could go wrong while preparing your perfect cup, but they can be avoided if you know what they are and what to do.
So, let us tackle what you must be mindful of as you French press your beans.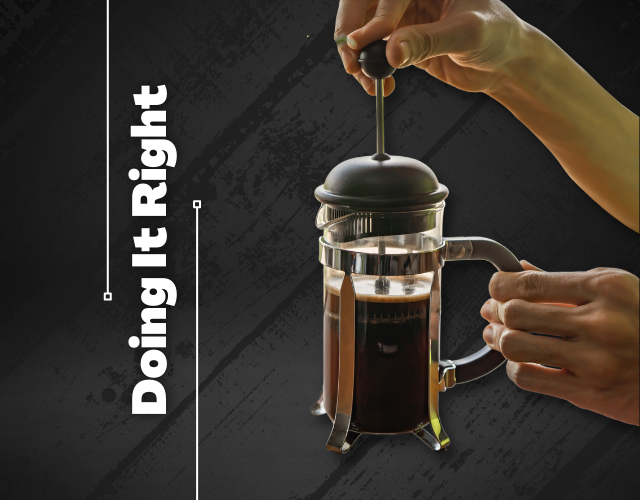 Measure It
One of the most common errors first-timers fall into is failing to measure the beans that they press. Not because you have picked the best coffee for French press means you can just mindlessly use any quantity. 
You need to have the right ratio of 1:10. That is, for every gram of coffee, you must combine it with 10 grams of water. It is the standard measurement if you want to come up with a mild brew. Adjust accordingly if otherwise.
If you want a stronger cup, gradually add more beans to the ratio. Make sure that you note how much you are adding so that you can refer back to that recipe when you do it again the next time. On the other hand, you can make a milder brew by reducing the steeping time or using fewer grounds. You can taste test as you go until the right strength that you are going for.
Grind It Well
We have mentioned earlier that the way the coffee beans are ground plays a big deal in determining the final output. Even if you have the best coffee for French press bought and prepared, if it is not ground to medium or coarse, you won't be happy with the result.
If you want to have perfect java pressed at the comforts of your home, it would be worth investing in a decent coffee grinder. It should be worth it as you can use it for a long time. Otherwise, have it professionally ground by your local barista. 
Heat Retention
You might think that keeping your beans in the French press after brewing can help keep them hot for later consumption. It is indeed the case. However, it also keeps the coffee in a brewing state, which will result in over-extracted output, which is better and unpalatable.
Do not stew your brew. Immediately transfer the finished brew into a carafe or thermos. The best way to enjoy your cup is as soon as you are done brewing. If you are one of those who take their time enjoying their java, you should consider getting those thermal cups.
Some Quick Fun Facts about the French Press. 
Although we discussed the best coffee for the French press, there are other things you can use this tool for. It can also brew your favorite tea and can be used as a milk frother. Neat, ain't it?. 
A cup of coffee prepared using the French press has more caffeine content than those made using an automatic coffee machine. A 4-ounce preparation can produce a cup with as much as 80 to 100 milligrams of caffeine.
The French press technique produces coffee cups with higher cholesterol content than the usual drip coffee. If you have health concerns that this could trigger, we suggest periodically alternating the French press with other methods.
Conclusion

.

Finding the best coffee for the French press is the first step in ensuring that you will enjoy every cup using this brewing technique. There are so many to choose from, but the ones we listed above will get you to a great start.

 

However, you should not think that it all ends with choosing the best coffee for the French press. You have to note the common disasters home baristas encounter and avoid them as much as possible so that your java experience will always be perfect.

 

Now that you know the best coffee for the French press, you can put the knowledge to good use and begin your barista journey! Your days will never be the same as you enjoy the best brew any time you like. 

 

Enjoy your cup!
10% OFF our entire store with coupon code "10OFF" at checkout
MEDICAL DISCLAIMER
This content is for informational and educational purposes only. It is not intended to provide medical advice or to take the place of such advice or treatment from a personal physician. All readers/viewers of this content are advised to consult their doctors or qualified health professionals regarding specific health questions. Neither Dr. Charles Livingston nor the publisher of this content takes responsibility for possible health consequences of any person or persons reading or following the information in this educational content.
All viewers of this content, especially those taking prescription or over-the-counter medications, should consult their physicians before beginning any nutrition, supplement or lifestyle program.