Avoid Watered Down Iced Coffee: Add Flavor AND Health To Your Brew With Coffee Ice Cubes  
How do you take your coffee? 
You didn't even have to think about the answer to that question, did you? 
From brewing methods, flavorings, and temperature, what goes into our mug or glass is practically a science, an art!
And, chances are, when you take a sip of coffee, you have an expectation of what will grace your lips. Even if you're trying something new, from feeling to flavor...you know what you want. 
It's why you frown or turn your nose when what you taste (or smell) doesn't live up to those expectations.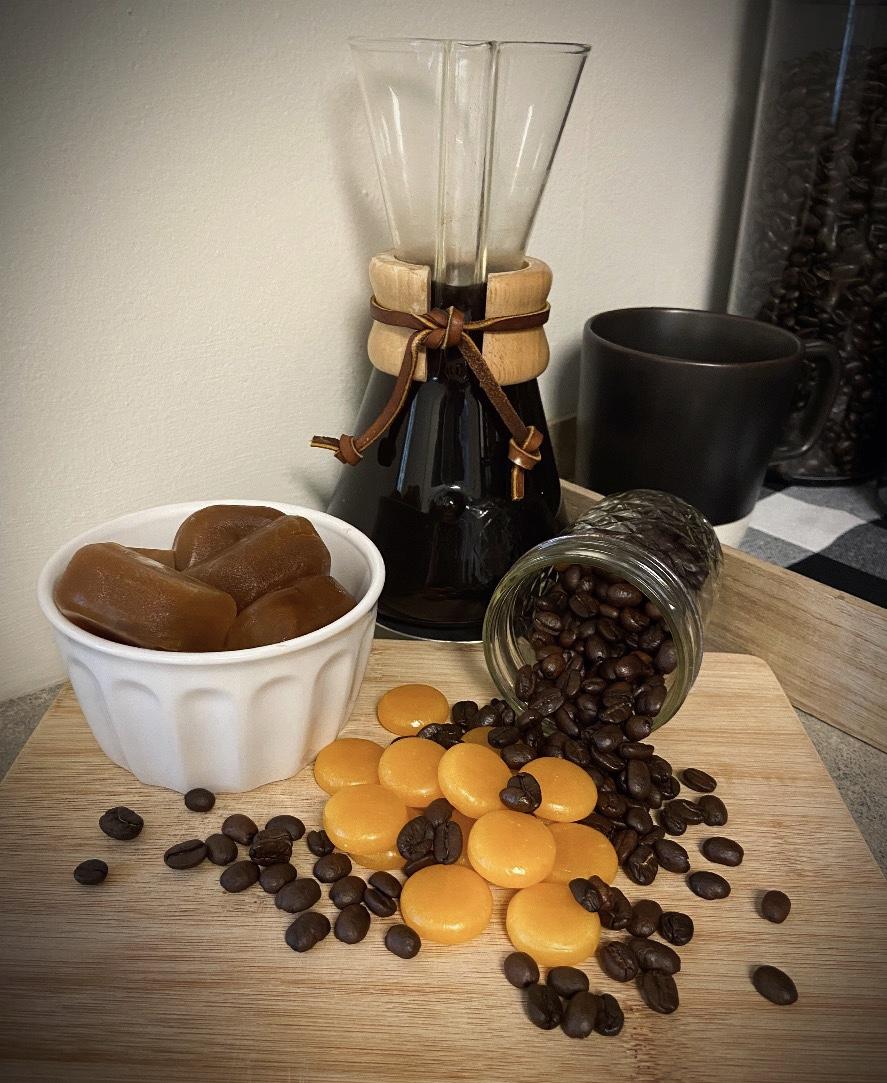 Take iced coffee for instance:
You expect a specific flavor from the roast or flavored version of the brew you've selected
You expect other flavor profiles from the particular additions you've carefully chosen (or not)
You expect a specific temperature (cold in this case)
You expect refreshment
So, sticking with our iced coffee example, what happens to those expectations as you sip?
With the first few sips, the flavors (from your chosen brew to additions like sugars, spices, milks, etc.) are on point. But, after several minutes, what happens? 
Science happens, right? The ice melts. 
I mean, how many times have you sipped on your iced coffee, got halfway through that glass, and dumped the rest because your perfected brew was transformed into a watery glass of yuck?
Sure, you wanted chilled, cold coffee, and the addition of ice delivers those desired temps. But, does it have to deliver that chill at the expense of flavor? 
Drinking a refreshing glass of iced coffee shouldn't have to result in a diluted, ill-flavored, mess. 
So, unless you're going to drink the icy version of your beloved java outdoors, in the dead of winter, in the arctic, we've got to come up with a solution. 
Actually, we don't have to come up with anything. The solution to this problem already exists.
Three words, my friends: Coffee. Ice. Cubes. 
And, while this may not be a new concept, I'm a bit surprised that it's not a more widely used method of keeping chilly brews strong and full of flavor. 
We know that, obviously, freezing coffee into ice cubes and adding it to cold coffee will accomplish the goal of keeping the brew chilled, just like ice cubes made of water. 
But, what happens when we get creative and take this concept to a new level? 
I'm thinking past the common watery conundrum of regular ice cubes...
From everyday flavors to full blown treats, how much flavor can be packed into a coffee ice cube? 
What about health? Can we boost our health with ingredients added to these creative cubes? 
Let's find out...
Coffee ice cubes can be prepared simply by pouring cold brewed or brewed and chilled coffee into an ice cube tray and freezing it for 3-4 hours. 
You can add these ice cubes to your glass the same way you would add ice cubes made of water. 
But, by using ice cubes made of your favorite brew, you've now avoided watering down your coffee. You'll enjoy consistent coffee flavor until the last sip!
So then, what if you like to add other flavors to your glass? 
If you do like to add a little something extra to your brew, you're not alone. 
A survey conducted in 2014 revealed that most iced coffee drinkers wanted more than just cream and/or sugar in their chilly java drinks. 
From vanilla, to chocolate, to hazelnut, cinnamon, pumpkin, peppermint, caramel, and more, people prefer these additions to their iced brew. Hot coffee can't have all the fun, right?!
So, will adding ice cubes made only of your selected brew tame those other additions? 
Hmmm, perhaps. So, why not add those flavors as you freeze your coffee into cubes? 
Including vanilla extract, chocolate, or cinnamon, for example, to your coffee as you freeze it will ensure amazing flavor all the way to the last sip when you add the frozen cubes to your chilled brew! Trust me, I've tried it!
In fact, there are so many ways, from simple to more complex, that you can add flavor to your java through coffee ice cubes. 
Any vanilla lovers out there? 
Here's a super simple recipe for a vanilla coffee ice cube that you can make and add to your cold brewed or chilled coffee for a subtle hint of this classically popular flavor: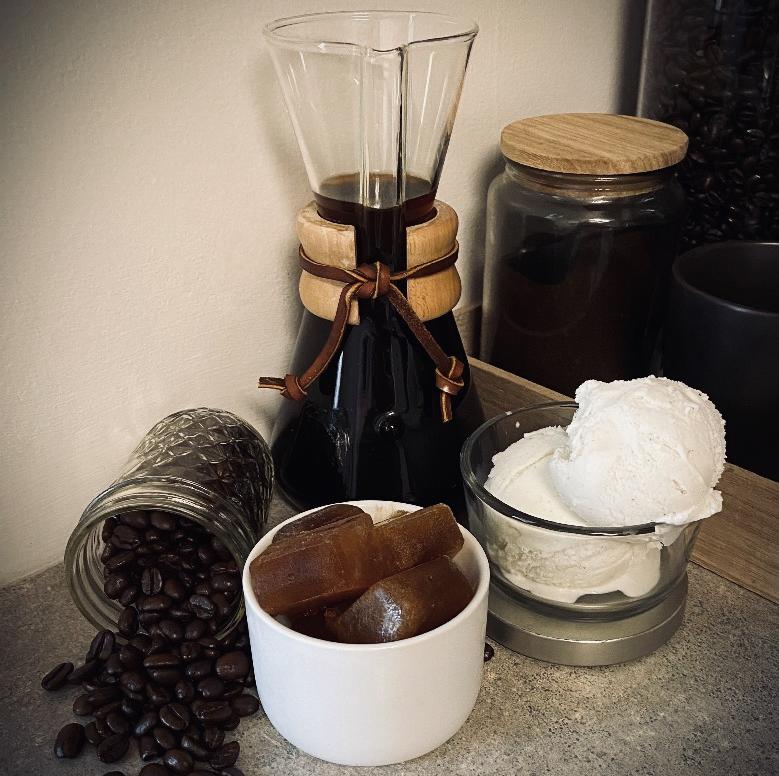 Ingredients:
1 cup cold brewed, or brewed then chilled, Lifeboost French Vanilla Medium Roast Coffee
5 drops liquid stevia
3 teaspoons pure vanilla extract
Method:
Stir together coffee, vanilla extract, and stevia. 
Fill an ice cube tray with the vanilla coffee mixture and freeze for 3-4 hours. 
Add a desired amount of vanilla coffee ice cubes to your prepared cold coffee and enjoy!
But, what if you like to spice up your iced brew just a bit more than that? What if you prefer the addition of cream or milk? 
Unfortunately, milks can be frozen into beautiful ice cubes, but they turn grainy as they thaw due to their fat content. 
You could use a vanilla flavored coffee ice cube in a recipe like this one to take things to the next level: 
Ingredients:
¾ cup cold brewed or chilled Lifeboost French Vanilla Medium Roast Coffee
¼ cup heavy cream
2 teaspoons vanilla powder 
6-8 vanilla coffee ice cubes 
Method:
Pour cold coffee and heavy cream into a glass. 
Add vanilla powder and stir together until powder is dissolved. 
Add vanilla coffee ice cubes and enjoy! 
Or, what about something slightly more complex? Have you ever tried adding fruit to your coffee? 
I'm sure you've tried or heard of sinfully delicious flavored coffees incorporating fruits like Lifeboost's decadent Chocolate Raspberry Truffle Medium Roast. 
So, what would it look like to pair such flavors and make coffee ice cubes out of them?
Here's a recipe that incorporates both chocolate and raspberry flavors into a coffee ice cube, I like to call it Truffle Berry Treat: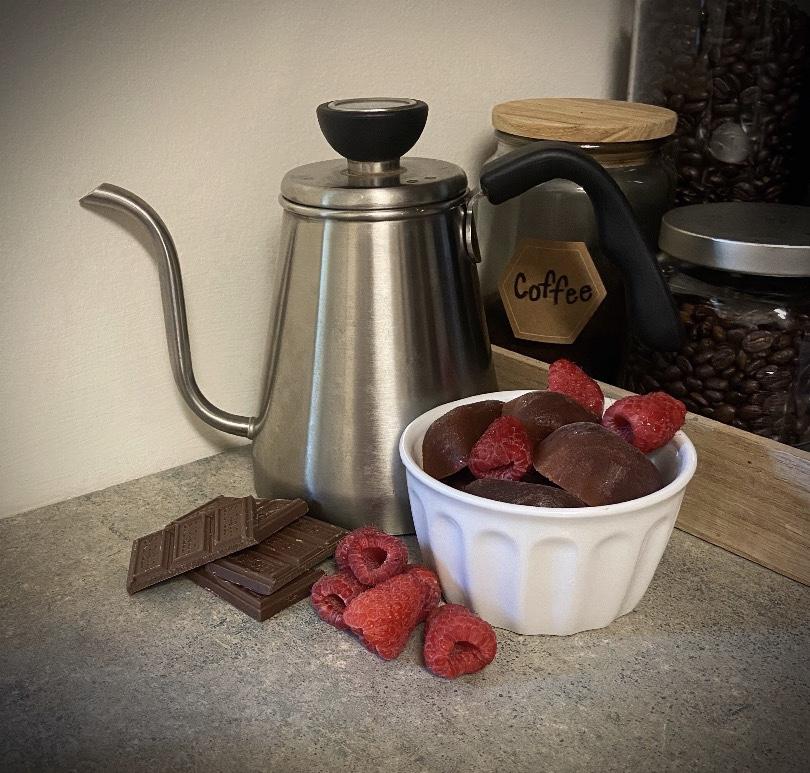 Ingredients:
¾ cup cold brewed or chilled Lifeboost Chocolate Raspberry Truffle Medium Roast Coffee
¼ cup raspberry sauce (see recipe below)
1 tablespoon chocolate syrup (see recipe below)
Method:
Stir together coffee, raspberry sauce, and chocolate syrup until well combined. 
Pour mixture into an ice cube tray and freeze for at least 3-4 hours. 
Add a desired amount of Truffle Berry Treat coffee ice cubes to your prepared cold coffee, and enjoy!
Homemade Raspberry Sauce
12 ounce bag frozen, thawed unsweetened raspberries
¼ cup cane sugar
½ teaspoon lemon juice
Press thawed berries through a mesh strainer. Allow juice to drain into a container that can be used to store the puree. All that should remain in the strainer are the raspberry seeds.
Add sugar and lemon juice to the berry puree and stir well to combine and dissolve sugar. 
Store in an airtight container in the refrigerator for up to a week.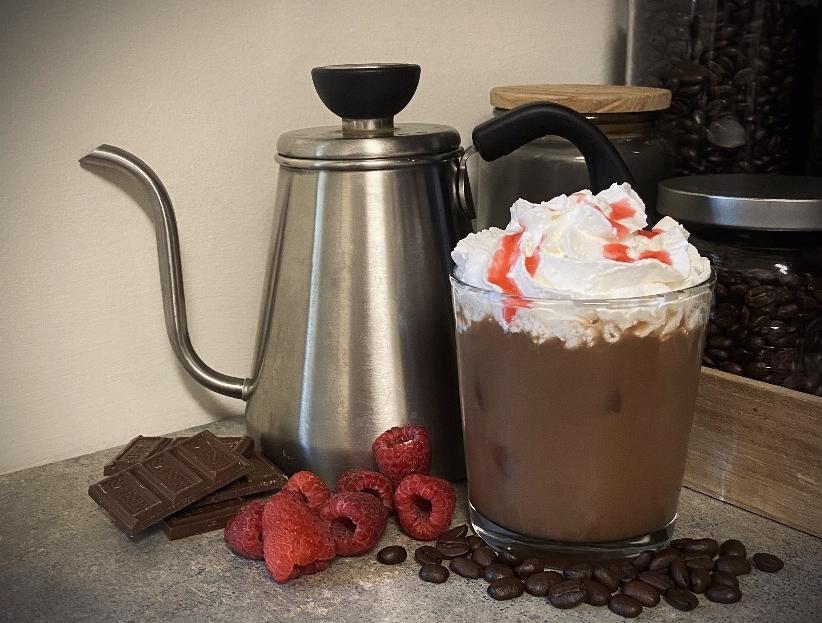 2 Ingredient Vegan Chocolate Syrup
¼ cup maple syrup
2 tablespoons unsweetened cocoa powder
Add syrup and cocoa powder to a bowl and mix until well combined.
Use immediately or store leftover syrup in a sealed container in the refrigerator for 1-2 weeks.
From simple additives like vanilla extract or powder, to more complex flavors where you can  make your own syrups and sauces, the possibilities are endless when it comes to adding flavor to your iced brew with coffee ice cubes.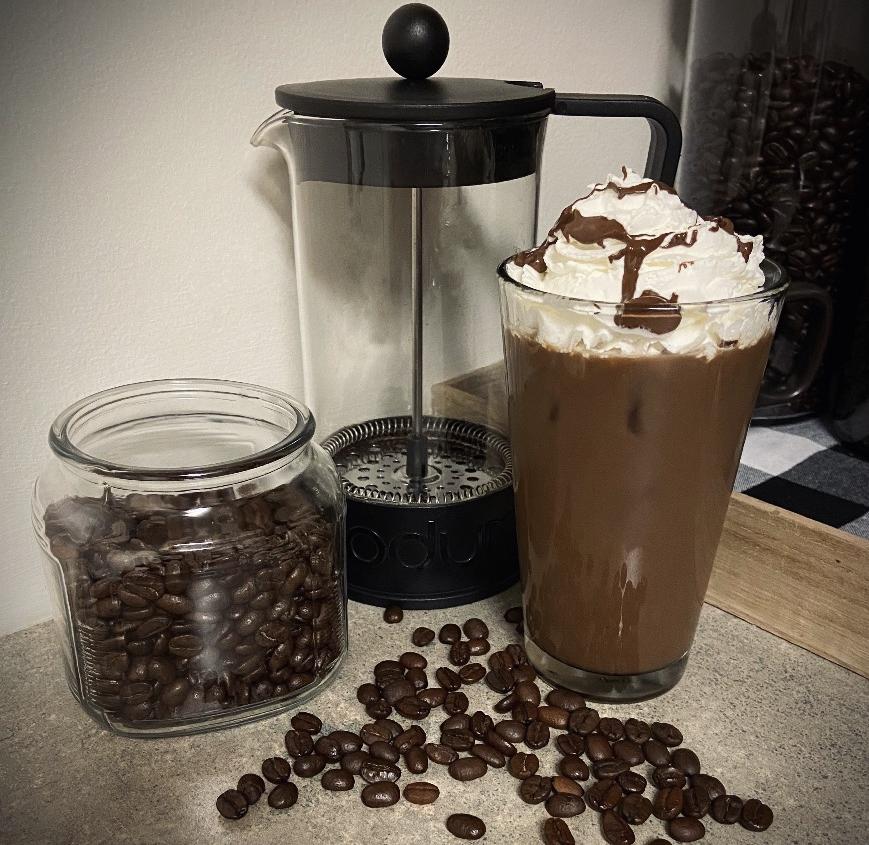 And, flavor isn't the only thing that you can add to your cup via coffee ice cubes! Take those raspberries in the last recipe, for example.

Raspberries are loaded with vitamins, minerals, and antioxidants. 
The vitamin C in these berries can help fight tissue damage by aiding in cell repair. 
They are considered anti-inflammatory. 
They contain vitamin A and polyphenols as well, which aid in keeping your eyes healthy. 
Raspberries are high in fiber and low in fat to help keep you full longer. 
They may be able to prevent memory loss and protect against brain damage. 
Those are just 5 health benefits (out of many) in one small ingredient that you can add to your coffee, even in ice cube form. 
So, clearly flavor isn't the only thing that can be added to coffee ice cubes!


Let's keep digging...
Coffee alone packs some serious health benefits.
So, even if you decide that freezing some of your favorite brew to add to your cold coffee (to enjoy those chilly temps til the last sip) is all you need, then you'll be reaping the following healthy rewards:
Increased energy and adrenaline levels
Just one cup contains vitamins B2, B3, B5, manganese and potassium
Lowers risk of type 2 diabetes, Alzheimer's disease, and dementia
Facilitates a healthy liver, lowers risk of cirrhosis 
Lessens the risk of some cancers
Lowers risk of depression
Can help to burn body fat
And, that's not all!! 
So, go ahead and grab a cup, and join me in seeing how a few simple additions to your brew (even in a coffee ice cube) can benefit your health beyond the benefits of the bean alone. 
Pure Vanilla Extract 
This popular flavor addition to coffee totes some amazing benefits when it comes to your health. 
Adding it to cold brewed or chilled Lifeboost coffee can: 
Strengthen and improve the growth of your hair
Reduce acne
Improve respiratory conditions
Aids in healthy digestion
Suppresses appetite
Keeps your heart healthy
Honey
This natural sweetener is generally noted as an additive for tea, but trying it in your coffee is not only a delightful flavoring, but a big health booster as well! 
Honey is loaded with antioxidants that fight damage from free radicals in your body. It also: 
Lowers blood pressure
Lowers cholesterol
Lowers triglycerides
Is a natural cough suppressant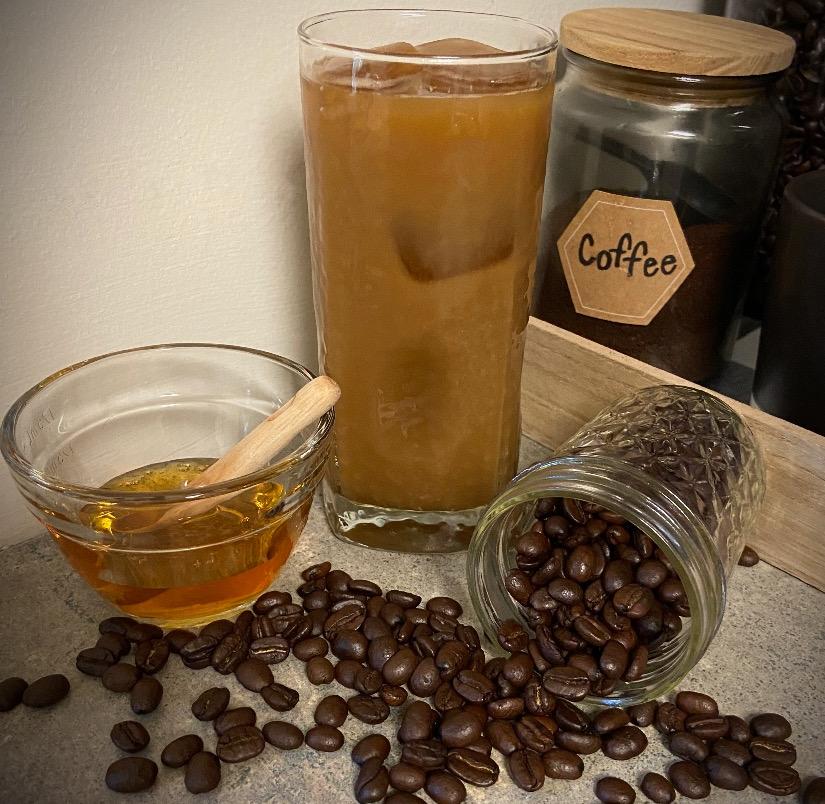 Cinnamon 
This spice is a personal favorite of mine. I like to top my brew with it frequently both for flavor and the health benefits that it boasts. 
Cinnamon, like honey, is loaded with antioxidants! But, it also: 
It has anti-inflammatory properties
Is known to reduce the risk of heart disease
Reduces the risk of some cancers
Fights bacterial infections
Fights fungal infections
Lowers blood sugar levels
Increases sensitivity to hormone insulin
Can protect against alzheimer's and parkinson's diseases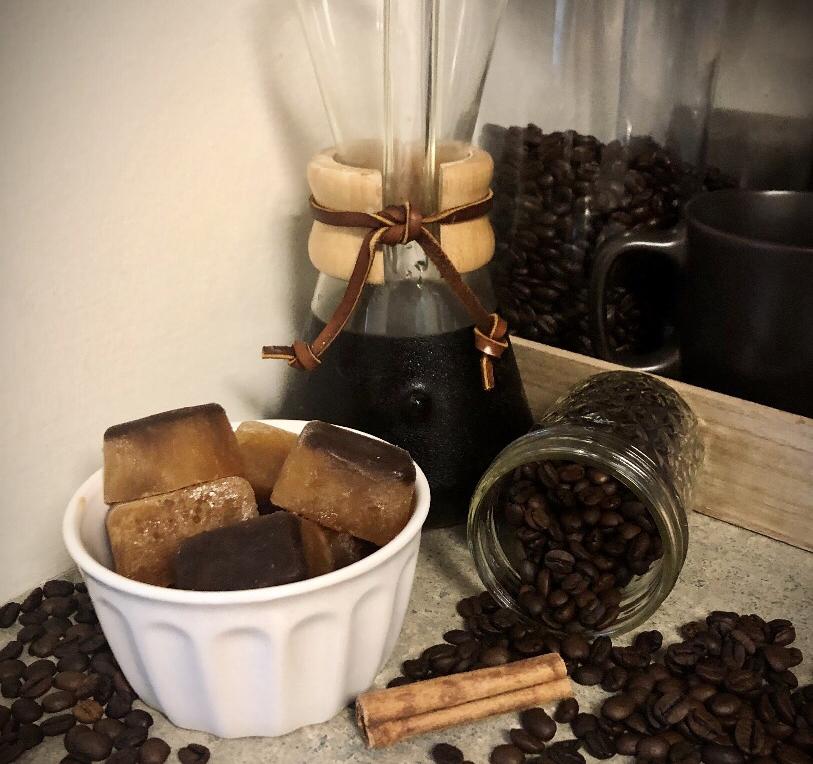 Cacao Powder 
You can use cocoa powder and your preferred healthy sweetener to add directly or to make a syrup to add to your coffee to freeze into coffee ice cubes. 
Cacao can: 
Help to keep your blood pressure at a healthy level
Can reduce fatigue
Decrease stress
Make you feel happier
Improve blood flow
Improve heart health
Improve gut health
Is loaded with electrolytes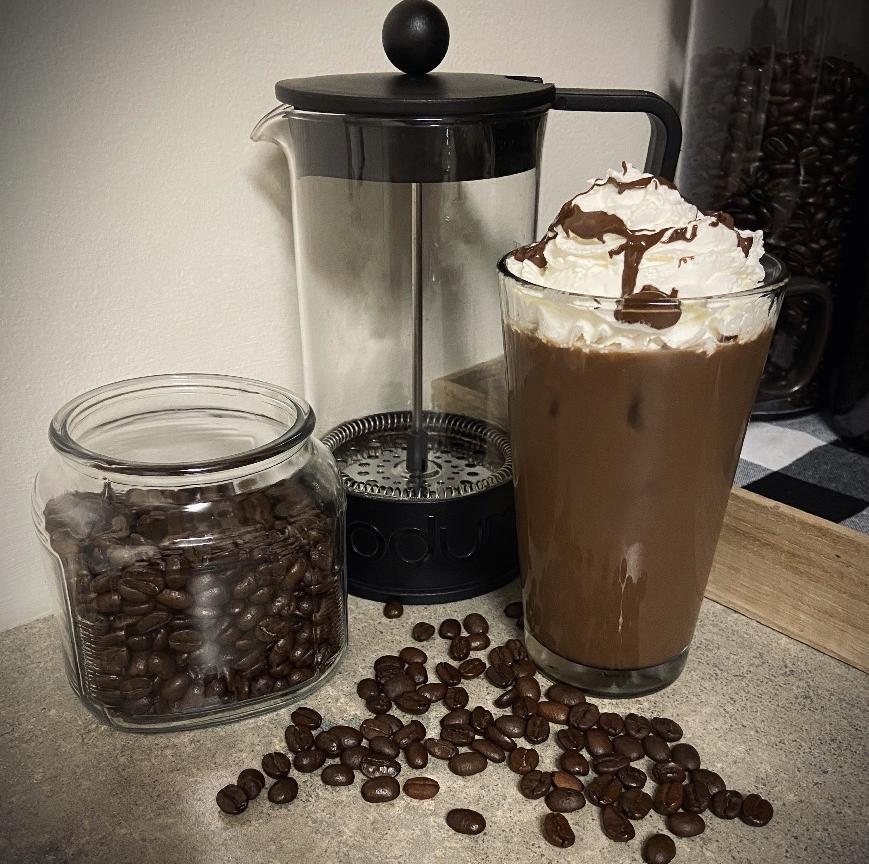 Real Maple Syrup
This stuff isn't just for pancakes! I love adding real maple syrup as a sweetener especially in what I like to think of as fall flavored coffee selections. 
Have you tried our Pumpkin Spice Coffee? It's a customer favorite for a reason...one of my favorites as well. 
The maple flavors just seem to highlight those classic fall spices.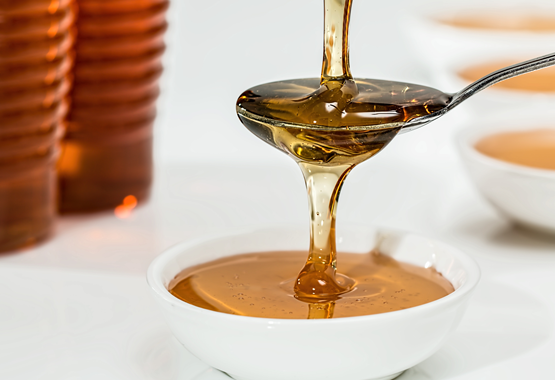 It is easily added to coffee to create tasty ice cubes to keep your coffee cold, flavored, and full of healthy benefits!! 
Real maple syrup (not the artificially flavored stuff) is full of vitamins, minerals, and antioxidants. 
Those combinations work together to: 
Boost your immune system
Strengthen your bones
Strengthen your teeth
Reduce your risk of cardiovascular disease
Keep your blood pressure at a healthy level
Aid in cellular growth and regeneration
Reduce your risk of some cancers
Reduce inflammation 
Milk Varieties
You may not be able to freeze heavy cream, dairy, or non dairy milks to add to your cold coffee, but like you saw in the vanilla iced coffee recipe earlier, you can still add them to your chilled brew to create a delicious cold coffee! 
And, these milks contain some powerful health benefits. 
We'll just go over a few here. 
Take heavy cream for example. It is rich in antioxidants, contains antibacterial and antiseptic properties and is associated with a reduced risk of heart disease, obesity, and diabetes. 
Or, do you need a nut free and dairy free option? No problem! Oat milk is nut, lactose, soy, and gluten free. It's a good source of B vitamins, and it is beneficial to the health of your heart and bones.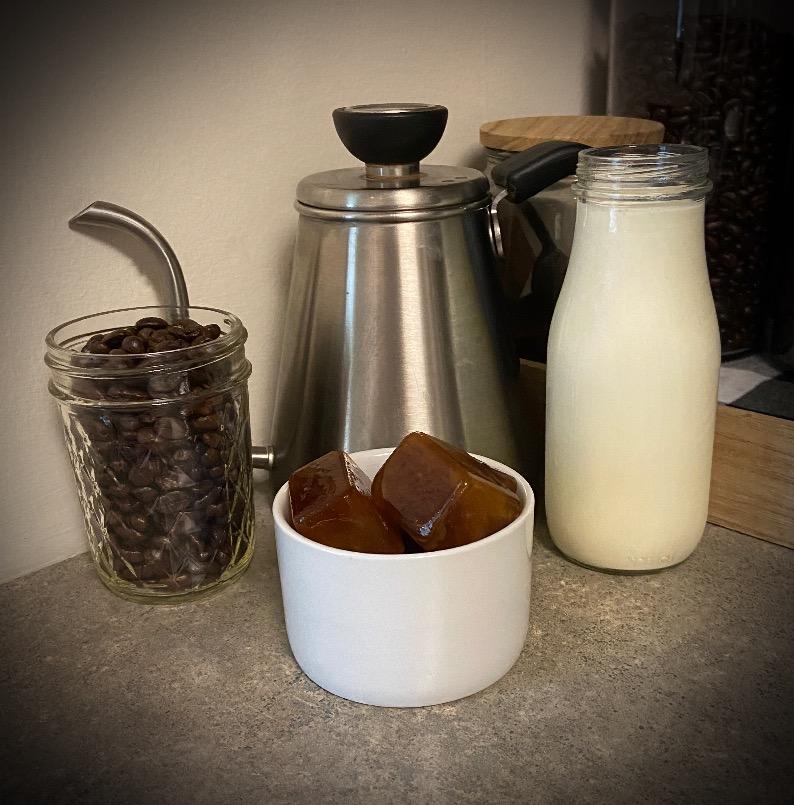 Here's a delicious iced coffee recipe that uses oat milk: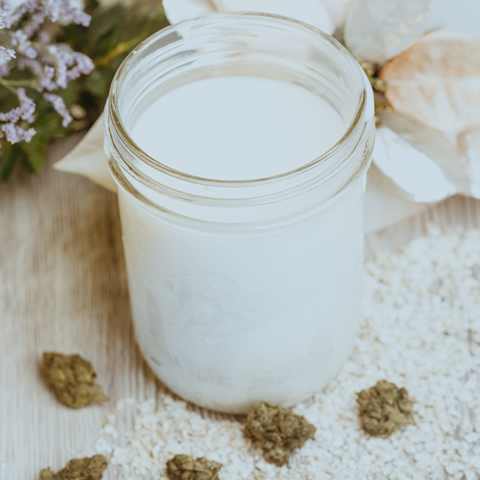 Ingredients:
⅔ cup cold brewed or chilled Lifeboost Maple Cinnamon French Toast Medium Roast Coffee
⅓ cup oat milk
2 teaspoons real maple syrup
¼ teaspoon maple extract
6-8 maple coffee ice cubes 
Method:
Pour cold coffee and oat milk into a glass. 
Stir in maple syrup and maple extract. 
Add maple coffee ice cubes and enjoy! 
(Read on to see how you can get the maple coffee ice cube recipe...it's one of my favorites!! It not only tastes amazing, but will make your house smell just as amazing while you mix it up.)
Now, continuing on with those milks…
Anyone like to add whole milk to their iced coffee? Whole milk is a good source of calcium, and it contains several essential vitamins and minerals. 
Or, what about almond milk? This milk contains more calcium than dairy, is a good source of vitamin E, is easier to digest than dairy options, and is cholesterol free. 
So, would you like to know how to add all of those ingredients (not at the same time, of course) and more to your coffee to make ice cubes that will add incredible flavor and health to your favorite brew? 
And, do you want to know how to combine those flavorful coffee ice cubes with other ingredients to make delicious iced coffee creations?
Look no further! 
Here at Lifeboost, we may not have created the coffee ice cube, but we've come up with 25 flavorful coffee ice cube recipes that you can make and add to your favorite Lifeboost brews! 
And, we didn't stop there! 
We also came up with 25 iced coffee recipes that feature each of these coffee ice cubes! 
Yep, that's a total of 50 recipes!
Some of them are super simple. Some of them are a bit more complex. 
All of them are full of flavor. All of them will keep your coffee cold and NOT watered down. 
And, all of them feature Lifeboost coffee selections ensuring your cup will be filled with the healthiest coffee possible! 
GMO free
3rd party tested for mycotoxins
Shade grown
Single origin
Pesticide free
Low acid
Now you can enjoy delicious, healthy Lifeboost coffee in ice cube form as well!
References:
https://savalfoods.com/survey-iced-coffee-drinkers-want-more-flavor-options/
https://facty.com/food/nutrition/10-reasons-to-grab-a-handful-of-raspberries-right-now/7/
https://aduna.com/blogs/learn/cacao-benefits-benefits-of-super-cacao
https://www.healthline.com/nutrition/10-proven-benefits-of-cinnamon#section9
https://crystalspring.co.uk/blogs/under-our-skin/8-surprising-health-benefits-of-vanilla
https://www.healthline.com/nutrition/10-benefits-of-honey#section10
https://www.today.com/health/what-are-health-benefits-ginger-how-use-ginger-t174002
https://acadianmaple.com/pages/maple-syrup-health-benefits-and-nutrition
https://www.healthline.com/nutrition/top-13-evidence-based-health-benefits-of-coffee#TOC_TITLE_HDR_11
https://www.healthline.com/nutrition/mint-benefits#TOC_TITLE_HDR_8
https://www.healthline.com/nutrition/almond-milk-health-benefits#section10
https://www.healthline.com/nutrition/oat-milk#bottom-line
https://www.healthspan.co.uk/en/advice/The-benefits-of-skimmed-milk#:~:text=Contrary%20to%20popular%20belief%2C%20skimmed,teeth%2C%20bones%20and%20muscle%20function.
https://numafoods.com/blogs/news/the-amazing-health-benefits-of-whole-milk
https://www.getatoz.com/content/10-health-benefits-of-cream/2503
MEDICAL DISCLAIMER
This content is for informational and educational purposes only. It is not intended to provide medical advice or to take the place of such advice or treatment from a personal physician. All readers/viewers of this content are advised to consult their doctors or qualified health professionals regarding specific health questions. Neither Dr. Charles Livingston nor the publisher of this content takes responsibility for possible health consequences of any person or persons reading or following the information in this educational content. All viewers of this content, especially those taking prescription or over-the-counter medications, should consult their physicians before beginning any nutrition, supplement or lifestyle program.