4 Delicious Recipes to Make Your Low Acid Coffee
When people diagnosed with acid reflux visit the doctor, one of the first things they're asked is to cut down on their coffee consumption. It may be easy to prescribe, but all of us coffee lovers know how difficult it can be to just stop having coffee cold turkey. Sure it may be causing you stomach problems, but coffee is often the only thing getting us through those tiring work mornings. How will we make it through another Monday without it?!
Now, the thing to pay attention to is the fact that it's not coffee itself that is causing you problems. It's the caffeine content and the acids released from your coffee beans that cause all of the trouble. So, instead of never drinking coffee again, why don't we try some ways to skip around this? Here are our top recipes on how to make low-acid coffee for people with acid reflux. Let's get drinking!
Brew a Dark Roast
Looking for a way to enjoy all the elements of a good cup of coffee without having to pop a few antacids right after? You should buy a low-acid dark roast from Lifeboost Coffee! The darker the roast of your coffee, the more time it has spent under heat. This means that most of the oils and acids in your coffee beans have been burned off (not in a bad way, don't worry!), so it will be much safer and healthier to drink if you have acid reflux. 
Do you want to know a little secret to ensure your coffee has an even lower acid content? Grind it super fine before you start the brewing process. Also, use alkaline water in your coffee maker for the perfect cup of coffee that doesn't cause you any inflammation or pain!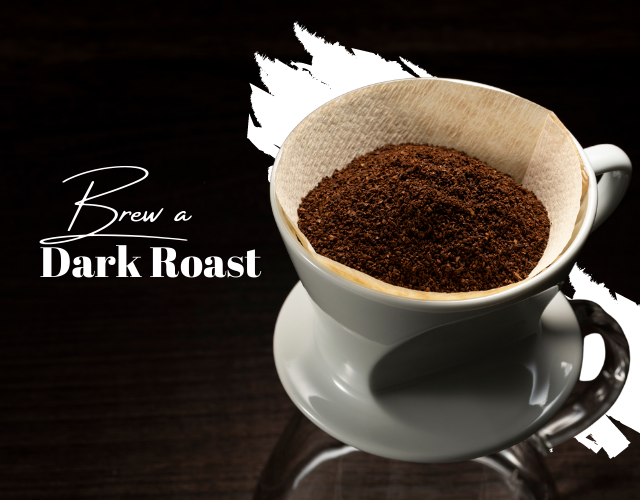 How to Brew a Dark Roast
Step 1:

Line your coffee maker's basket with a paper filter.



Step 2: 

Put your alkaline or filtered water on the stove to boil.



Step 3:

Grind your coffee beans to a medium or fine grind as the water boils.



Step 4:

Let your water sit for a minute (time it!) after boiling, then pour it into the filter to wet it thoroughly.



Step 5:

Let the water drain into your cup or the coffee pot. Discard it.



Step 6:

Measure and add the ground coffee beans into the wet filter depending on how strong you want your coffee.



Step 7:

Pour in water to wet the coffee grounds well and drain them into your cup. Pour in the rest of the water, and your delicious dark roast is ready!
DIY a Cold Brew at Home
If you aren't 100% decided on having your coffee hot, might we suggest going for a cold brew to get your daily kick of caffeine without angering your stomach? Cold brews can be a great way for people with GERD to enjoy coffee and not have to worry about the caffeine content!
What's the big deal with cold brew anyways? How can something as simple as changing the temperature suddenly make coffee okay for you to have? Let's find out below!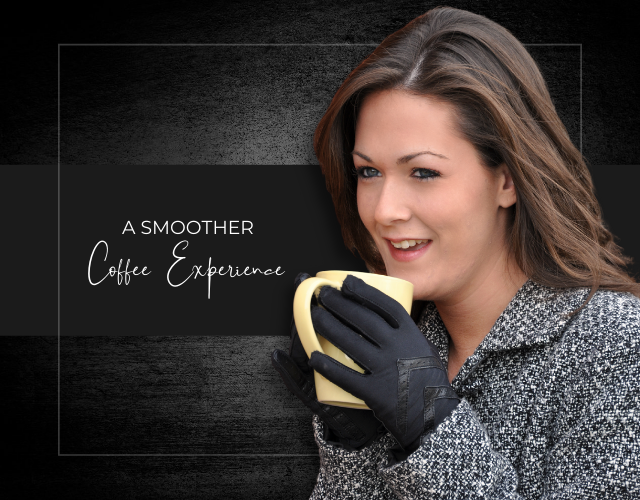 A Smoother Coffee Experience 
As much as we love dark roasts and lattes, cold brew has a special place in our hearts. That's because it is a smoother, more delicious way of enjoying your favorite coffee blend without any of the flavors or undertones getting muddled in the process. 
People often think a cold brew is simply pouring your shot of espresso over ice and drinking it up. Tasty as it may be, you will end up with an overly acidic and strong 'iced' coffee and not a cold brew using this method.
To ensure a low-acid cold brew, you will need to let it steep for quite some time. Since all coffee beans contain oils that store numerous fatty acids, the best way to ensure they aren't extracted is by using cold water. The cold, slow brew process stops most of the oils stored in the beans from being fully extracted, resulting in a mellow brew with low acidity and plenty of flavors. Cold brew coffee is known to be over 60% less acidic than regular coffee, making it much easier on the stomach.
How to Make the Best Cold Brew 
Here is a quick guide on making the best cold brew of your life. You can just use your favorite coffee blend from Lifeboost Coffee for this recipe, so there will be no need to spend money on expensive beans or special equipment. For cold brews, coarsely ground beans work better than fine-grind. Let's go over how you can get your hands on the right ingredients.
Buy Coarsely Ground Beans - While you may not always have this option, buying coffee beans that are already coarsely ground is the best way to make a delicious and flavorful cold brew.


Grind them Up Yourself - In case you can't find coarsely ground varieties of your favorite coffee blends, you can always just buy the beans and ground them up yourself! Coffee grinders are easy to find and even easier to use. However, if you don't own a grinder and don't want to invest in one right now, that's perfectly fine as well! Just use a mortar and pestle or your rolling pin to grind your beans to the desired size.
Make Your Brew
Now that your coarsely ground beans are ready, it's time to get a-brewin'! You need to achieve the perfect ratio of water to coffee beans for the perfect cold brew. A ratio of 2:1 water to coffee works best for most cold brews.

Mason Jar Method -

If you're just entering the delicious and aromatic world of cold brew, it is best to start with a mason jar to test your first few batches.

The mason jar method is straightforward and uses tools that you probably have lying around your kitchen.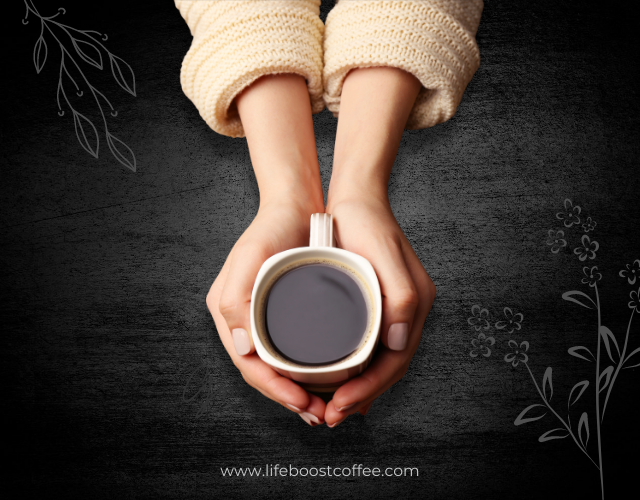 Instructions:
Step 1: Combine 1 cup of coarsely ground coffee with 2 cups of cold water.
Step 2: Seal the container, shake well and refrigerate it for 12 to 24 hours.
Step 3: Once you've left the coffee to brew for enough time, take it out, line the fine mesh strainer with a coffee filter, and pour your coffee through to get rid of the grounds.
Step 4: Enjoy your delicious cold brew!
French Press Method - 

Were you gifted a French Press on your last birthday but aren't sure of how to use it? We're here to teach! The French Press method is super easy, and the straining process is a breeze. What more could we ask for?

Instructions:
Step 1: Combine coarsely ground coffee beans with water in a 1:2 ratio. Cover your container and put it in the refrigerator.


Step 2:

After at least 12 hours have passed, bring out the French Press, set it up, and plunge it down to strain the coffee groundswell.


Step 3:

Pour your cold brew into a separate container, discard the grounds and enjoy your drink!
Coffee Maker Cold Brew - 

Lastly, you can make a cold brew using your coffee maker! It allows you to make large batches of cold brew with little to no effort while also eliminating any mess created by the leftover ground beans. Here is how you get your cold brew on tap.

Instructions:
 

Step 1:

Fill the filter with 4 cups of coarsely ground coffee beans.


 Step 2:

Pour in 13 cups of water and refrigerate the solution for 12 to 24 hours.


 Step 3:

Remove the filter, discard the coffee grounds and fill your pitcher with 3 cups of water.
 

Step 4:

Place it back in the refrigerator, and you have your ready-to-drink cold brew whenever you want it!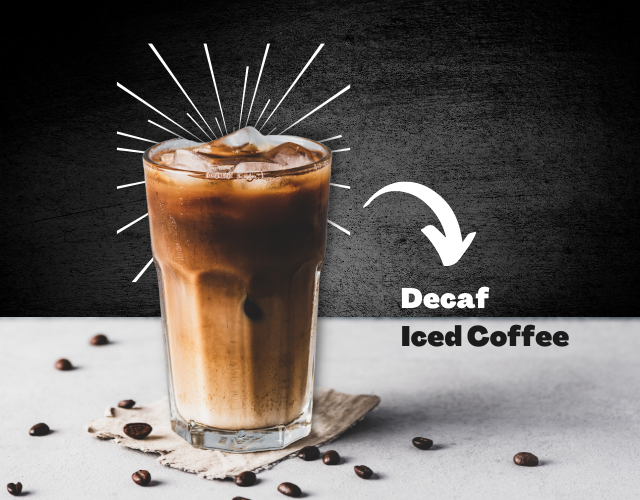 Decaf Iced Coffee
Did you know that decaf iced coffee is much better for people with acid reflux than your usual cup? That's because decaf coffee granules don't have as much caffeine as regular coffee beans do, thus lowering the chances of making you rush to the bathroom after taking just a few sips.
If you've been struggling with acid reflux, you should consider decaf varieties of your favorite coffee blends. Decaf coffee is significantly better and healthier for people who are sensitive to acidic content.
That's because caffeine is the main culprit that causes your stomach to produce more acid, which can be a nightmare for people with gastroesophageal reflux disease. With decaf varieties, you won't have this problem!
How to Make Delicious Decaf Iced Coffee in Under a Minute
Ingredients You'll Need
2 Tbsp decaffeinated coffee granules
1 tsp warm water
2 tsp sugar (or your choice of sweetener)
½ cup cold water
1 tsp vanilla extract
½ cup milk of choice

ice cubes



Steps to Follow
 Step 1:

To make decaf iced coffee in under a minute, add warm water to the decaffeinated coffee granules and mix well until fully dissolved.


 Step 2:

Add sugar, warm water, and vanilla extract to the mixture and blend well so combine.


 Step 3:

Put ice cubes in a tall glass and pour your coffee mixture over it.


 Step 4:

Add your milk of choice to the glass and enjoy your drink!
A Creamy, Milky Latte
The best way to ensure your morning coffee doesn't cause you any stomach problems is by opting for a blend that is low in chlorogenic acids. To reduce the acids in your coffee brew, you can always add some milk to it. When milk is added to coffee, the milk proteins bind to the chlorogenic acids, thus eliminating their activity.
The acids won't be able to react in your stomach to promote the production of stomach acids or even give you heartburn. Another good option is to add heavy whipping cream, as it doesn't contain lactose which is responsible for causing digestive problems.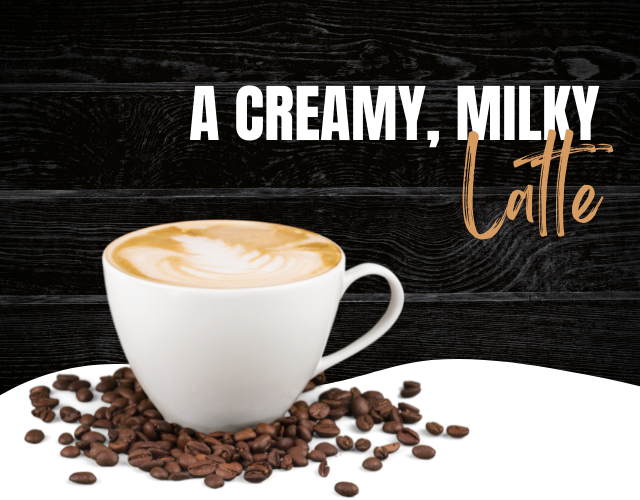 P.S. Make sure milk doesn't upset your stomach before trying out this tip. You can also look into non-dairy varieties of milk if you're lactose intolerant or your stomach doesn't agree with full-fat milk. Almond milk is a great option for people looking for ways to make their coffee low-acid. It has a higher alkalinity level than regular milk, so it does a better job of neutralizing the acids released by your beans.
Making a Delicious Morning Latte
Here is a super easy recipe to start your mornings with a yummy latte.
Ingredients You'll Need
Espresso
Steamed Milk
Foamed Milk
Sugar (if desired)


Steps to Follow
Step 1:

Prepare a single or double shot of espresso directly in your latte glass or cup.


Step 2:

Fill your milk jug with ⅓ cup milk (whole or almond for the lowest acidity).


Step 3:

Purge your steam arm before you try to steam the milk.


Step 4:

Foam the milk as the espresso brews and pay close attention to the texture. You should end up with a nice, smooth microfoam that doesn't settle or become flat.


Step 5:

After you've foamed your milk well. Gently tap the milk jug or bump on the counter to eliminate any unwanted and overly large air bubbles.


Step 6:

Once your espresso is ready, pour your frothed milk into it from a high position.


Step 7:

Continue to pour it while slowly lowering your pouring height and steepening the pouring angle.


Step 8:

Ensure a small amount of the stiff milk foam continues to sit on top of the espresso once you've finished pouring.


Step 9:

Enjoy your delicious morning latte!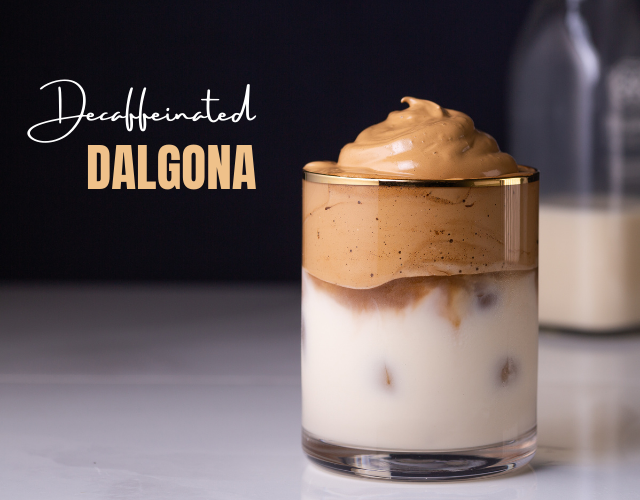 Bonus Recipe - Decaffeinated Dalgona for the Gram
If you've spent any time on TikTok or YouTube's food channels recently, you've probably come across the much-raved and extremely loved Dalgona coffee.
The creamy, thick coffee paste mixing in with milk and swirling around the ice cubes can leave the best of us craving a coffee instantly! Unfortunately, Dalgona coffee isn't the best choice if you have acid reflux.
While it does have milk which is known to reduce the acidity of your coffee beans, the high coffee bean, and white sugar content will undo any neutralization that your milk causes. Therefore, you're left with a highly acidic cup of coffee that can even make people without GERD feel that stinging heartburn sensation. Just imagine how much worse it'll be for someone who already deals with acid reflux!
Does that mean you have to bid your dreams of one day trying Dalgona coffee farewell? Not on our watch! The original Dalgona might be too acidic for you, but what if we found a way to decaffeinate it? We discussed previously how decaf coffees are much better for people living with acid reflux as there is little to no caffeine to trigger their condition. On the other hand, if you're someone who prefers to maintain a low caffeine diet for better health, pregnancies, or any other reason, the decaf Dalgona will be your new favorite drink!
Here is how you can make decaffeinated Dalgona whipped coffee for your early mornings.
Ingredients
2 Tbsp decaffeinated instant coffee
2 Tbsp granulated white sugar
2 Tbsp cold water
2-4 oz. dairy or almond milk
Ice
Steps to Follow
Step 1:

Place 3-4 ice cubes in a glass and store it in the freezer to chill for 5 to 10 minutes.


Step 2:

Combine your decaf instant coffee, sugar, and water together using a spoon, whisk, or electric hand mixer until you've created a frothy whipped mixture. Your coffee paste should have stiff peaks with a meringue-like consistency.


Step 3:

Grab your chilled glass with ice cubes from the freezer and add the milk to it. You can use any milk you like. However, we recommend almond milk as it has a higher alkalinity level to neutralize any acids still lingering about your coffee paste.


Step 4:

Add the whipped decaf Dalgona paste over your milk as a topping and serve!



P.S.

You'll definitely want to video record as you mix in the coffee paste to your milk. The stunning swirls of light brown and white look beautiful as the two elements mix and combine.



P.S.S

If you prefer a low-acid or half decaf version of Dalgona that won't cause you any stomach problems while still offering enough caffeine to get you through the day, here's a little trick to remember. Instead of using completely decaf instant coffee, opt for 1 Tbsp of decaf instant coffee paired with 1 Tbsp of low-acid coffee from Lifeboost Coffee. Trust us; you'll fall in love with this coffee combo!
Some Other Tips to Make Your Coffee Less Acidic
Apart from trying out our delectable recipes to make that perfect cup of low-acid coffee, there are some other steps you can also take to ensure you don't aggravate your acid reflux every morning.
Starting from what kind of roast you pick out to grabbing some alkaline ingredients from the pantry and grinding your beans in the right way - all of these quick steps will do wonders for your morning routine!
Get a Dark Roast -

Dark roasts take longer to cook, so these beans have been under the heat for enough time for most of the acids to be burned off. This makes dark roasts perfect for people with acid reflux. You should also keep in mind that coffee beans roasted at higher temperatures or for longer periods of time will have lower acidity levels. Therefore, dark roasted beans from Lifeboost Coffee are your best bet at winning it all. You won't have to give up your morning coffee, and neither will you have to suffer through an inflamed esophagus!



Add Some Baking Soda -

Baking soda is one of the most alkaline ingredients in your pantry. Adding just a touch or a pinch of baking soda in your coffee pot will neutralize most of the acids in the beans and offer you a well-rounded flavor that doesn't cause any burning sensation. Salt works similarly, but adding it will slightly alter the taste of your coffee, so most people prefer baking soda.



Acid Reducers Work Great -

If you're extremely sensitive to coffee acids or caffeine in general, acid reducers will work best for you. These granules can remove up to 90% of the acids released from your coffee beans with little to no change in the flavor profile and texture of your morning drink. Sounds like the perfect solution, does it not



Don't Forget the Paper Filter -

People often forget to change their paper filters or even place them at all in their coffee makers. But if you're trying to have coffee with acid reflux, this is one mistake you simply cannot afford to make. Paper filters do a great job of catching most of the oils and acids in your coffee, allowing you to get a cup of clean, low-acid drink to enjoy.



Grind it Up -

This one's simple, the finer the grind of your coffee beans, the lesser acid will be released as you brew them. So, you can either pick out your favorite fine-grind coffee beans from Lifeboost Coffee or get a coarse ground variety and use your own coffee grinder for smaller pieces - it's totally up to your preference!



Set the Brew Time -

Water is known to bring out the acid in your coffee beans. So by shortening the time and adjusting your brewing method, you can easily limit the amount of acids released into your cup.



Use Hard Water -

Instead of opting for your usual water to brew coffee, you should consider trying out hard water or alkaline water. Hard water has a higher percentage of minerals with lower amounts of sodium which will ensure less acidic coffee. Similarly, alkaline water is also a great way to brew a cup of low-acid coffee as it neutralizes the acids released by your beans.



Consider Some Natural Alternatives -

Lastly, an excellent way to ensure that your coffee has the most minuscule percentage of acids possible, opt for a low-acid blend of dark roast coffee. These specialty blends from Lifeboost Coffee offer you a premium variety of single-origin coffee beans and grown on a low elevation plantation in Nicaragua.

Apart from being pesticide-free, shade-grow, and eco-friendly, our dark-roasted coffee beans also have the smoothest, most rich flavor profile to make your Monday mornings so much better. Lifeboost takes your coffee game up a notch by offering made-to-order coffee bags that are roasted to perfection after you have confirmed your purchase.

This allows us to bring the highest standards of quality, texture, and taste to your daily cup of coffee, and you can rest assured that your beans weren't sitting on the shelf for months.



What are you waiting for? Look up our online shop today and elevate your coffee drink forever!

Our low-acid beans variety will ensure you never have to think twice before indulging in your favorite drink ever again!
10% OFF our entire store with coupon code "10OFF" at checkout
MEDICAL DISCLAIMER
This content is for informational and educational purposes only. It is not intended to provide medical advice or to take the place of such advice or treatment from a personal physician. All readers/viewers of this content are advised to consult their doctors or qualified health professionals regarding specific health questions. Neither Dr. Charles Livingston nor the publisher of this content takes responsibility for possible health consequences of any person or persons reading or following the information in this educational content.
All viewers of this content, especially those taking prescription or over-the-counter medications, should consult their physicians before beginning any nutrition, supplement or lifestyle program.