10 Irish Coffee Recipes: From Classic To Creamy To Controversial
Looking to venture out a bit when it comes to your usual cup of joe? 
I know, I know, there's not a lot of ways to improve on something already so amazing. But our Irish friends, their eyes smiling, may have something to say about that sentiment. 
Rivaling the amazing with the excellent, Irish coffee isn't your ordinary cup of joe!
Truly, this type of coffee is a cocktail. And, beginning with delicious coffee as its base, a bit of sugar, whiskey (Irish whiskey, of course), and smooth, rich cream are added to create one of the world's most popular coffee beverages! 
But, before we explore some decadently delicious variations of this spectacular cocktail, journey with me to Ireland and insert yourself into this story as we have a short, fun history lesson prior to sipping.
Picture it, Ireland, 1940…
We're on an airbase, and it's pouring down rain. So, of course, flights are delayed left and right. 
Looking for something to do to pass the time, along with many other wet, cold, weary, stranded travelers, we stumble into an onsite restaurant.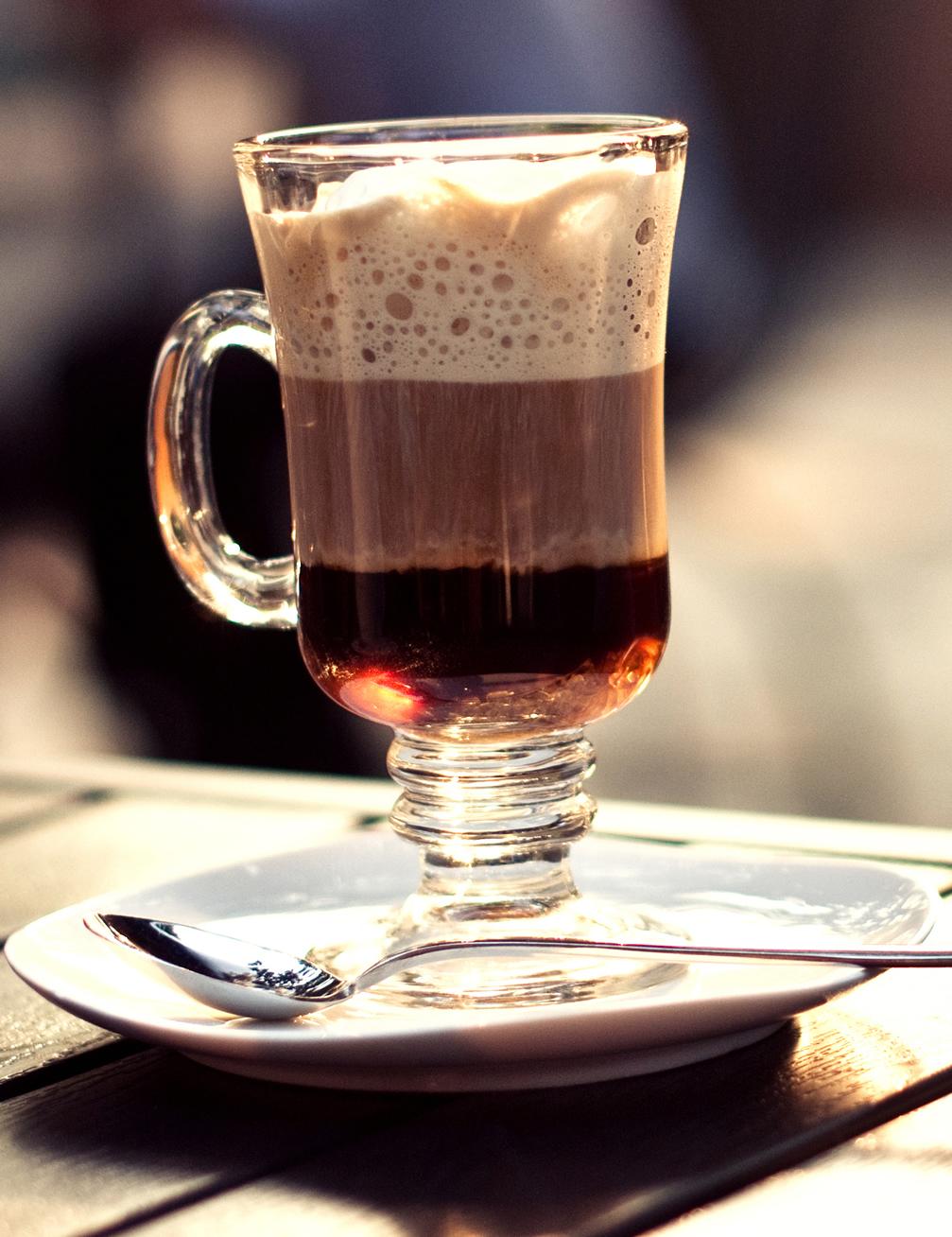 The chef there, he takes pity on us. Yes, just the sight of us, drenched and freezing, sends him behind the bar where he creates something truly amazing (a staple in airport lounges to this day)! 
"You folks look like you could use a pick me up, something truly special." 
One by one, the chef brings out this smooth, creamy concoction for each traveler. 
It's slightly sweet, but the main flavors shine through: bold, stout coffee, a bit of bite from the whiskey, and silky, smooth cream floating on top. 
Minus the DeLorean, let's bring things back to the present…
Thankfully, you don't have to wait for time spent traveling and hours in and out of the typical airport hustle and bustle to enjoy this classic, creamy, delicious drink! 
Not only is this cocktail easy to make, you can also play around a bit with the classic ingredients to truly find your precise, exceptional, personal favorite. 
A little timid when it comes to experimentation? Here's a few suggestions to get you started:
Substitute maple syrup instead of the typical brown sugar. 
Use straight heavy cream for topping, or whip the cream with a little sweetness to top your drink.
Most stick to Irish whiskey for the alcohol content, but this element can be substituted too, as there are multiple types of whiskey (or some bourbons as a close cousin) that are delicious in this drink. 
Now, if you're ready to get really creative, check out the following recipes where most all contain the core components of a classic Irish Coffee with a few slight variations incorporated from recipe to recipe giving you options on both flavor and flare!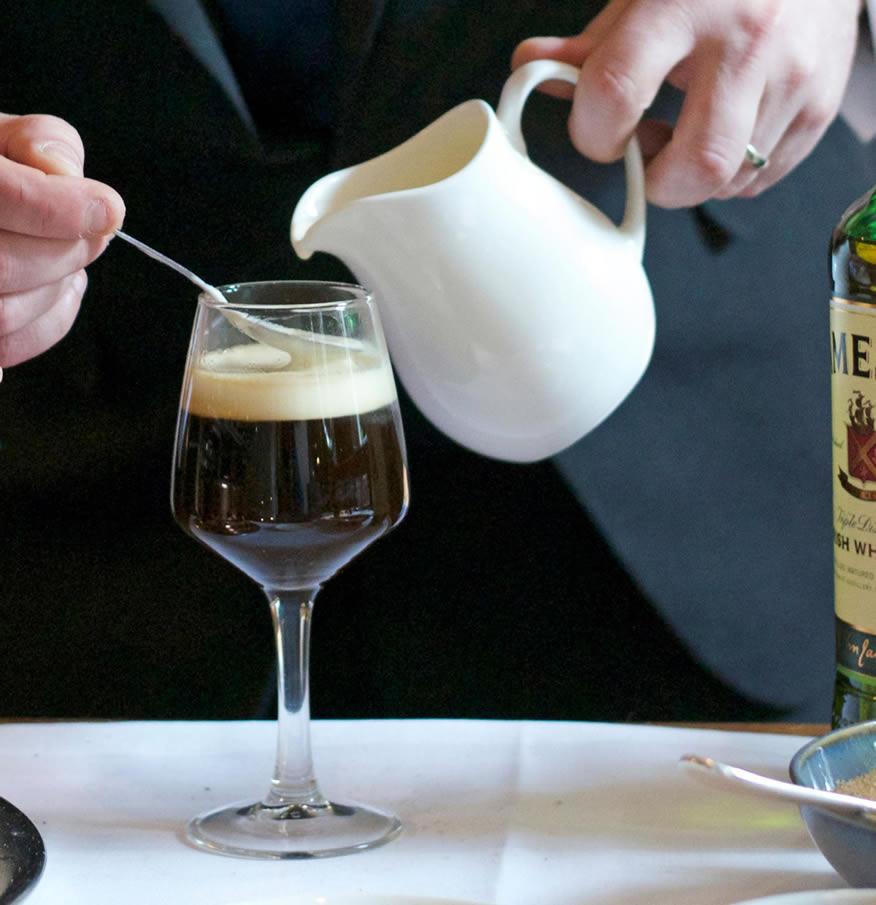 We're going straight-laced here.
No messing around. 
Here you'll get the original, classic Irish Coffee recipe where we'll use our beloved dark roast coffee, a customer favorite! 
Ingredients
4 ounces strongly brewed Lifeboost Dark Roast Coffee
1 ½ ounces Irish Whiskey
2 teaspoons brown sugar
1 ounce lightly whipped heavy cream
Directions
Preheat a cocktail glass or mug with hot water. Let that sit a few moments, give it a good swirl, then empty the water from the glass or mug. 
Lightly whip heavy cream (you don't want it to be stiff, just a light whip here, thickening it only slightly). 
Add brown sugar and hot coffee. Stir or swirl to dissolve sugar, then add whiskey. 
Stir, then allow the brew to still (from the stirring). 
Take a hot teaspoon (you can use the spoon you stirred your cocktail with in the last step as it should be warm) and gently pour the lightly whipped cream over the back of the spoon. Do not stir again after this step. 
Sip your cocktail through the cream that rests on top, enjoy!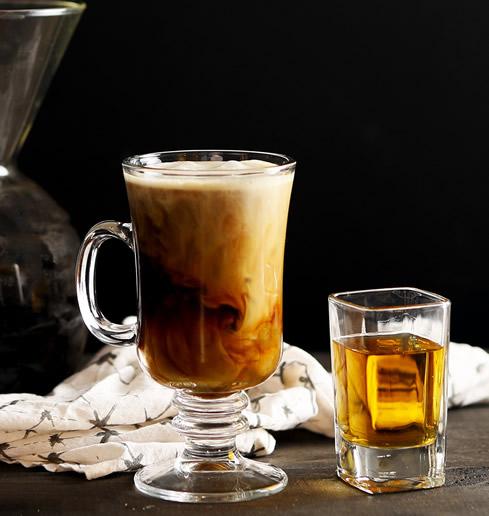 Brown sugar actually pairs very well with coffee. There's just something about the slight caramel-like flavor it gives.  But, I'm sure you've noticed that coffee shops and diners around the world typically do not set out packets or glass jars of brown sugar. 
No, most go with the classic, more fairly colored, plain white sugar. And, that's why we're including this slight variation on the original, basic, Irish Coffee recipe...where you'll basically only be switching out the sweet component in the drink. 
So, if you prefer one lump...or two...of white sugar, as opposed to cane's less sweet, but more darkly colored counterpart, then this Irish Coffee is for you. 
Ingredients
4-6 ounces freshly brewed Lifeboost Medium Roast Coffee
2 teaspoons white sugar (you can go with cane sugar for a healthier option)
1 ⅓ ounces Irish Whiskey
Heavy cream
Instructions
Warm a glass or mug with hot water, then dispose of water immediately prior to crafting your drink.
Lightly whip a desired amount of heavy cream (While an ounce is usually sufficient to top the drink, adding a bit more than that amount makes the liquid slightly easier to whip. Note that you will only be very lightly whipping the cream. You don't want it to stiffen.)
Add sugar, hot coffee, and whiskey to glass or mug and stir together. 
Let the liquid settle, then float a layer of the lightly whipped heavy cream on top of the cocktail by pouring over the back of a spoon. Do not stir.
Sip your cocktail through the layer of cream, enjoy!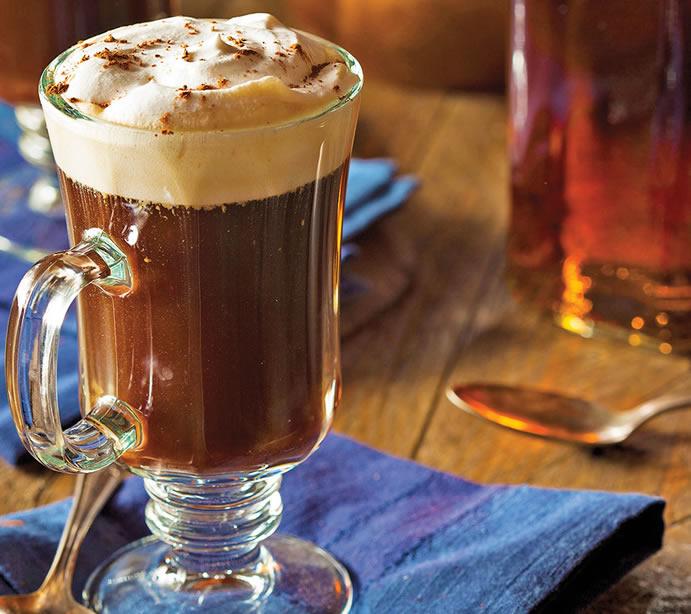 The sweet element for this variation of a classic Irish Coffee comes from maple syrup, which we all know is made from the sap of a maple tree (pure maple syrup that is, which is what I most definitely recommend for this recipe). 
This small switch from the classic Irish Coffee recipe still allows for a slightly sweet element, but you'll get to enjoy a hint of wonderful maple flavor in the background as well. Delicious...and boozy!

Ingredients
6 ounces hot, freshly brewed Lifeboost Irish Cream Coffee
1-2 teaspoons pure maple syrup (to taste)
1 ½ ounces Irish Whiskey
Whipped heavy cream, for topping
Instructions
Whip real heavy cream in a small bowl and set aside (You can use store bought, but whipping your own heavy cream pairs better in this cocktail. You can whisk this, but I prefer using a hand mixer. I prefer cream that's whipped to slightly stiffer than soft peaks in this recipe, but the stiffness is completely up to you.)
Pour coffee, whiskey, maple syrup into a heat safe glass or mug and stir together. 
Top with whipped heavy cream and enjoy! (serve while still warm)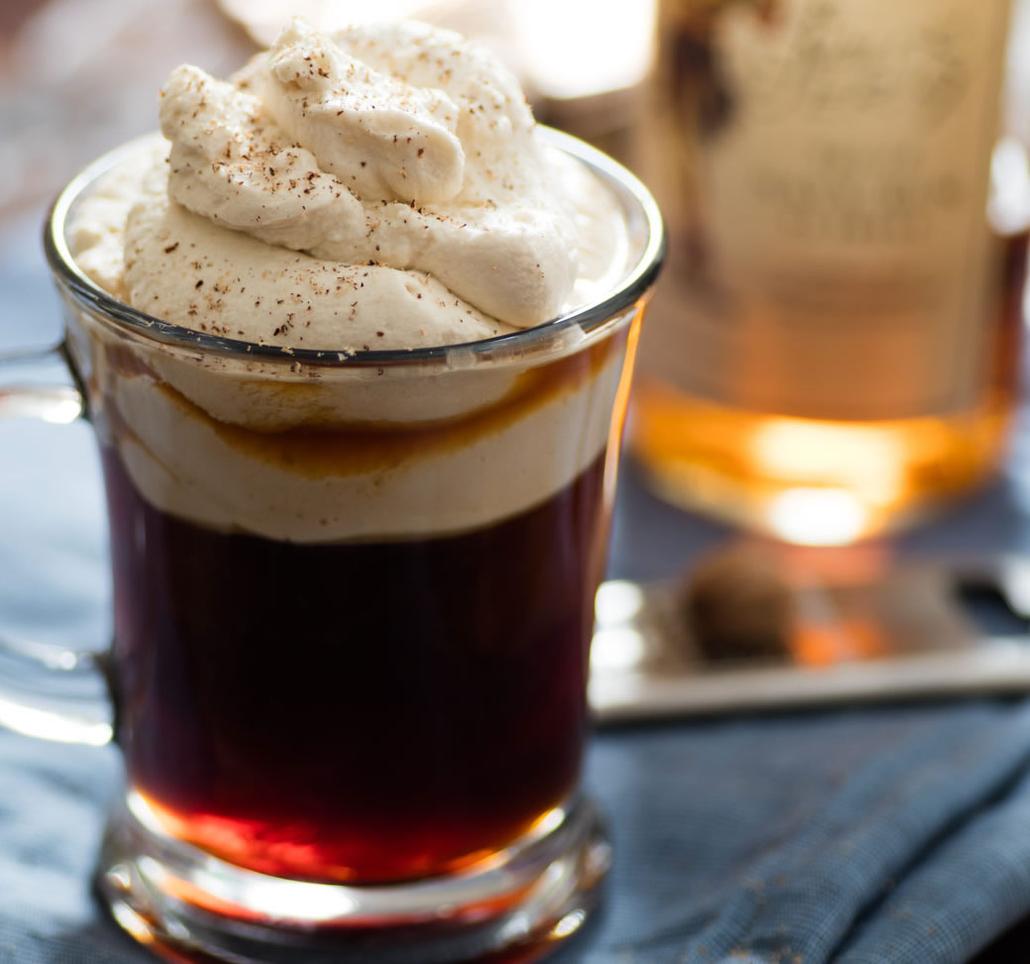 Slightly more creamy, definitely more boozy, this delicious take on a classic Irish Coffee will make you dance! 
Okay, so maybe you won't dance. But, if you like your cocktails on the creamy side, you'll love this one! 
Ingredients
8 ounces freshly brewed Lifeboost Irish Cream Coffee
1 ½ ounces Irish cream liqueur 
1 ½ ounces Irish whiskey
Whipped heavy cream for topping
Instructions
If making your own whipped cream, pour roughly ⅓ cup of heavy cream into a small bowl and mix with a hand mixer until stiff peaks form. Set aside. 
Combine hot coffee, whiskey, and irish cream liqueur in a mug or heat safe glass and stir to combine. 
Top with a dollop of whipped heavy cream. Serve immediately. Enjoy!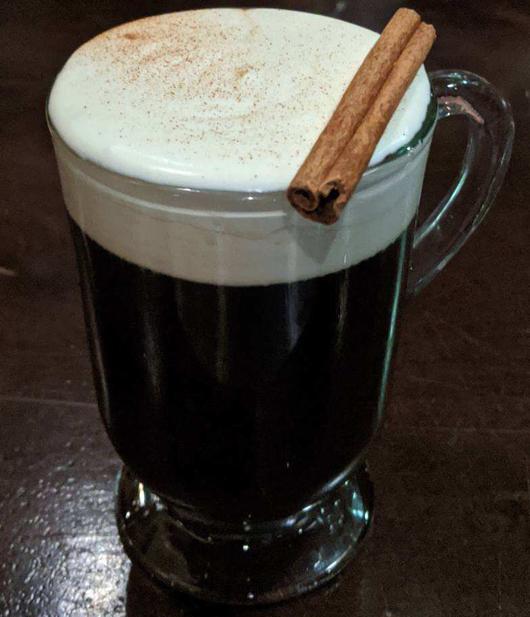 Sometimes the classics will do, and sometimes the classics can be elevated with a little spice! 
This irish coffee recipe takes the classic version and adds a bit of cinnamon and nutmeg to give the cocktail a subtle new flavoring. Come on, who doesn't need a little spice in their life, right? 
Ingredients
8 ounces freshly brewed Lifeboost Dark Roast Coffee
2 teaspoons brown sugar
2 teaspoons cinnamon syrup (see recipe below)
1 ½ ounce Irish Whiskey
Whipped heavy cream 
Cinnamon, for topping
Nutmeg, for topping
Directions
Add ⅓ cup heavy cream to a small bowl. Mix with a hand mixer until soft peaks form. Set aside. 
Add hot coffee, brown sugar, and cinnamon syrup to a mug. Stir until brown sugar is dissolved. 
Add whiskey and stir. 
Spoon a few dollops of whipped heavy cream on top of the cocktail. Dust with ground cinnamon and a dash of nutmeg. Serve immediately. Enjoy! 
¼ cup water
¼ cup cane sugar
¼ teaspoon cinnamon
In a small saucepan, stir together water, sugar, and cinnamon. Bring to a boil over medium-high heat. Let boil for 2 minutes, until sugar is dissolved. Remove from heat, and let cool. (store remaining syrup in the refrigerator)
Dark roasted coffee selections make perfect mates to alcohol as their bold flavors easily stand up the equally bold flavors commonly found in most spirits. 

The following recipes from our ebook include our highly popular Lifeboost dark roast along with both classic and unique alcohol pairings to deliver delicious cocktails that you can enjoy at any time.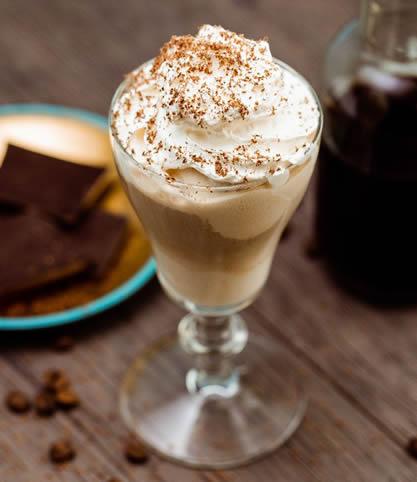 Mint in an Irish Coffee?? Yes, and, you're welcome! 
Don't be a skeptic, because this chocolatey take on an Irish Coffee, with a slight mintiness resting on top, is rich with flavor throughout! 
Ingredients
8 ounces freshly brewed Lifeboost Dark Roast Coffee
2 tablespoons shaved dark chocolate, plus extra for garnish
1 ounce Irish whiskey
1 teaspoon creme de menthe
Whipped cream
Directions
Place dark chocolate in a mug and microwave until melted. 
Stir in hot coffee until chocolate and coffee are well combined. 
Add in whiskey and stir once more. 
Top with whipped cream (you can use canned or mix your own by whipping heavy cream to stiff peaks). 
Drizzle creme de menthe over whipped cream then garnish with shaved dark chocolate. 
Serve immediately while still hot. Enjoy!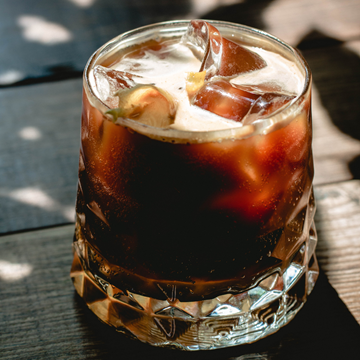 Most Irish Coffee cocktails are served hot. But, frankly, some of us just loved iced coffee. 
So, this one is for all the iced coffee fans out there looking to add a little creaminess, a little alcohol, and a lot of flavor! (Spoiler alert: this one includes chocolate!!)
Why "krusher?" 
Simple...crushed ice is the best, right? 
Bonus: You can use regular ice cubes (cough cough, crushed ice cubes) in this recipe, but I would highly recommend taking the time to freeze some of your favorite Lifeboost coffee in an ice cube tray to use here. Coffee ice cubes will keep your drink cold and full of flavor as you sip.
Ingredients
6 ounces cold brewed Lifeboost Irish Cream Coffee
3 tablespoons cane sugar, divided
2 tablespoons hot water
¼ cup Irish whiskey
2 tablespoons chocolate syrup
⅓ cup heavy cream
Ice
Directions
Combine 1 tablespoon sugar and heavy cream in a small bowl. Mix with a hand mixer until stiff peaks form. Set aside.
Add 2 tablespoons sugar and hot water to a glass, stir until sugar dissolves. 
Add coffee, whiskey, and chocolate syrup to the sugar mixture in glass and stir to combine. 
Add ice, then top with sweetened, whipped heavy cream. Enjoy!
Pour Some Irish Coffee On Me
Many folks prefer the pour over method when making their coffee, but have you ever considered making that pour over with whiskey? 
This recipe has most of the classic irish coffee elements (with a few subtle additions), but its primary difference lies in the prep. 
Take a look…and then a taste after you make this outstanding drink! 
Ingredients
2 tablespoons freshly ground Lifeboost Irish Cream Coffee
6 ounces hot water
2 ounces Irish Whiskey
1 teaspoon cane sugar
Heavy whipping cream
A few dashes Bittermens Xocolatl Mole Bitters
Directions
Add roughly ⅓ cup heavy whipping cream to a small bowl. Mix with a hand mixer only until soft peaks form. (You don't want it to get too stiff.) Set aside.
Add sugar to your mug, then prepare your coffee using both the hot water and the whiskey to pour over your ground coffee. 
Add whiskey infused coffee to the mug containing the sugar and stir to combine. 
Top with a dollop of lightly whipped heavy cream and a few dashes of bitters. Enjoy!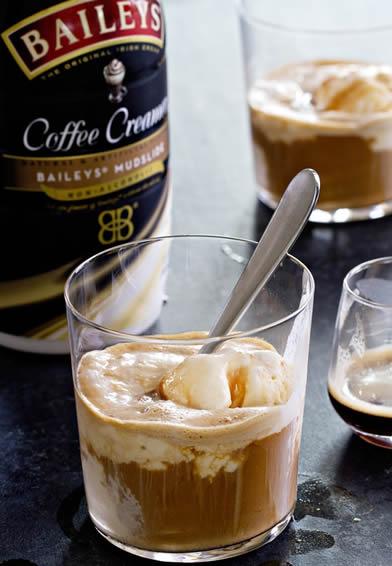 Okay, if you're a hardcore traditionalist, I'll make a plea with you here: please don't shoot the messenger. I'm only trying to broaden your horizons and bring you a delicious coffee cocktail recipe. 
But, no, this one does not contain the classic Irish whiskey that is found in a true Irish Coffee. 
Instead, your tastebuds will be wowed with a combination of irish cream liqueur, coffee liqueur, and of course, amazing coffee. 
Ingredients
4 ounces freshly brewed Lifeboost Light Roast Coffee
¾ ounce irish cream liqueur (like Bailey's)
¾ ounce coffee liqueur (like Kahlua)
Whipped cream
Directions
Pour hot coffee and both liqueurs into a mug or heat safe glass. Stir to combine. 
Top with whipped cream and enjoy immediately.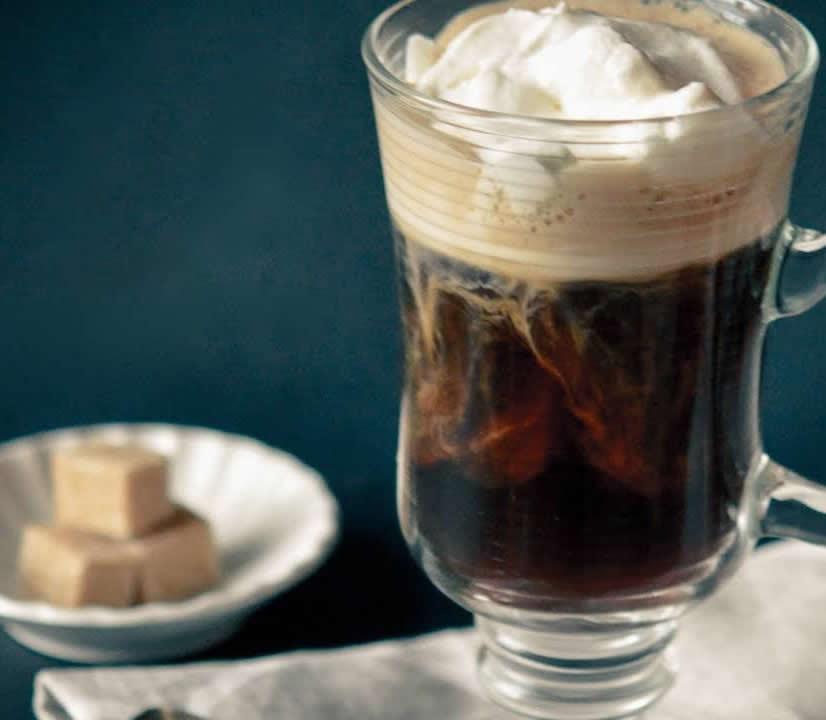 Like iced coffee? 
Like frozen, slushy, milkshake-like coffee treats? 
How about a boozy Irish Coffee version of the above two tasty treats? 
I know, I know, we're bordering on controversy again here as this one also pushes the boundaries on a true Irish Coffee, but to be honest...
I'll race you to the kitchen to make this one, because it is truly amazing!
Ingredients
4 ounces cold brewed or chilled Lifeboost Dark Roast Coffee
¼ cup vanilla ice cream
½ cup whole milk, frozen into ice cubes
2 ounces Irish whiskey
2 ounces coffee liqueur
⅛ teaspoon finely ground coffee (for garnish)
Directions
Add ice cream, frozen milk cubes, cold coffee, whiskey, and coffee liqueur to a blender. 
Blend on high until milk ice cubes are crushed and the drink is smooth. 
Pour into a glass, dust the top with ground coffee if desired, and enjoy!
References:
https://weaverscoffee.com/blogs/blog/the-original-irish-coffee-recipe-and-its-history
https://www.liquor.com/articles/how-to-make-irish-coffee/
https://cookieandkate.com/best-irish-coffee-recipe/#tasty-recipes-32306
https://www.allrecipes.com/recipe/44045/irish-coffee/
https://www.julieseatsandtreats.com/irish-coffee/
https://www.justapinch.com/recipes/drink/drink-hot-drink/chocolate-irish-coffee.html#page1r
https://www.food.com/recipe/iced-irish-coffee-177953
https://www.bonappetit.com/recipe/pour-irish-coffee
https://www.food.com/recipe/irish-coffee-with-baileys-and-kahlua-77324
https://cooking.nytimes.com/recipes/1020932-frozen-irish-coffee
MEDICAL DISCLAIMER
This content is for informational and educational purposes only. It is not intended to provide medical advice or to take the place of such advice or treatment from a personal physician. All readers/viewers of this content are advised to consult their doctors or qualified health professionals regarding specific health questions. Neither Dr. Charles Livingston nor the publisher of this content takes responsibility for possible health consequences of any person or persons reading or following the information in this educational content. All viewers of this content, especially those taking prescription or over-the-counter medications, should consult their physicians before beginning any nutrition, supplement or lifestyle program.